Having a ready stock of hand soap, hand sanitizer, surface disinfectants, and body fluid spill kits can be a challenge, but so can knowing where to place these products throughout a school. Research shows that placing products in the right place increases use and decreases germs found in a facility. Participants of OMNIA Partners have the opportunity to utilize cooperative contracts to save time and money on various sanitation products like these listed above. Below you'll find guidance from GOJO on where to place products throughout your school and what makes each of these solutions important.

Breaking down school areas by traffic patterns
There are three primary traffic patterns or areas within a school:
High traffic areas – where all or most children visit at the same time, like main entrances, cafeterias, buses, and gyms.
High Risk/Medium traffic areas – where many people visit during the day, but not necessarily all at once, like restrooms, media centers, and main offices. Also, consider those areas where germs are more likely to be present like food prep or trash disposal areas.
Medium-to-low traffic areas – where few visit or stay throughout the day, like classrooms and administrative offices.
---
Product placements in each area
With these areas in mind, its easier to determine what hand hygiene or surface disinfection solution is needed. While all sinks, regardless of which area they are in, should have an accompanying wall-mounted soap dispenser, there is more to consider when placing sanitizer and surface disinfectants.
Learn more about product placement with GOJO's Perfect Placement Guide.
High Traffic Areas
Since high traffic areas are the busiest, most frequently visited areas, they should offer readily available solutions in prominent places. GOJO recommends placing touch free hand sanitizer dispensing stands in high traffic areas that can be used quickly as students walk by.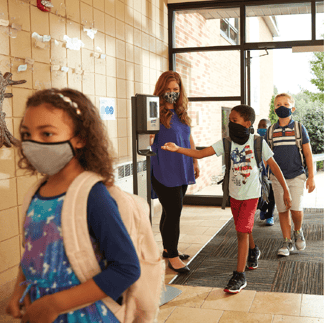 The other benefit of using a stand is that they are mobile, so can be moved to wherever they are needed most throughout the day. For surface solutions, GOJO recommends keeping larger containers of surface disinfectant, out of the reach of children, but easily accessible to staff in a nearby closet or storage area.
For example, when the main doors are open for bus drop off, you may want 2-3 stands across the entryway so students can easily access product without cutting across others, but during recess you may want to move one or two of those stands to the outside or cafeteria doorway.
High Risk / Medium Traffic Areas
Entrances to main offices, kitchens, restrooms, nurses' stations, media centers/libraries, and other common areas should have wall-mounted dispensers for sanitizer. GOJO suggests placing hand sanitizer dispensers outside of rooms or by doorways; when students know that product is available to them in standard locations, they are more likely to use it. Similarly, making surface disinfection products available to those responsible for maintaining common areas throughout the day will also help ensure regular use. Staff members working in high-risk areas, like food prep areas, should have soap, sanitizer, and surface disinfectants within reach at each station.
Consider placing body fluid spill kits on each school bus and in the gymnasium, cafeteria, near other emergency kits, and with the maintenance staff as well.
Medium to Low Traffic Areas
Since there isn't as much traffic going in and out of a classroom or an individual's office, it's considered a medium-to-low traffic area. We recommend placing small, easy to hang dispensers or 2-3 hand sanitizer pump bottles in these areas: near entrances, wash stations, and on desks. Using smaller dispensers or bottles makes it easy for anyone to refill at any time, and helps decrease the risk of over-investment while still ensuring this vital product is available. Empower teachers, bus drivers, and other staff members who may not have regular access to large storage closets by providing a couple of canisters of surface disinfecting wipes and surface spray to store within their rooms or bus.
For more information on GOJO, click here.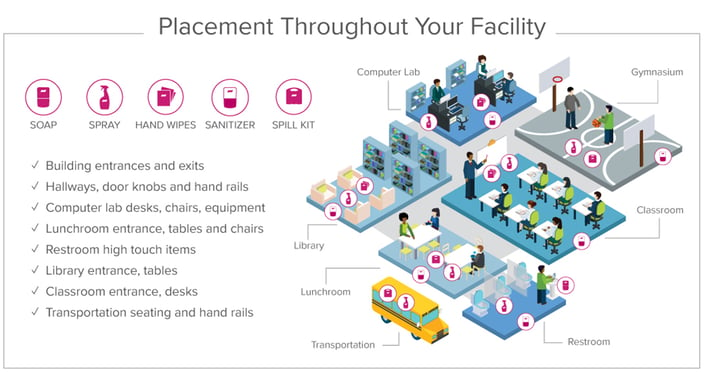 ---
About GOJO and OMNIA Partners
GOJO products are available to participants of OMNIA Partners on competitively solicited, publicly awarded cooperative contracts through your favorite distributor. GOJO's collection of offerings include, janitorial & sanitation products, supplies & related services. To view the entire OMNIA Partners contract portfolio, click here.
Labelle et al, Sports Health, 2020. https://journals.sagepub.com/doi/full/10.1177/1941738119877865
Retrieved on Sept. 8, 2020. Operating schools during COVID-19: CDC's Considerations. https://www.cdc.gov/
coronavirus/2019-ncov/community/schools-childcare/schools.html