Each time a new challenge emerges for some of your procurement peers, we see real-life examples of how they're collaborating with a cooperative purchasing organization to solve the issue and exceed management's expectations for the purchasing or sourcing functions. We're hearing more and more from public procurement professionals that cooperative purchasing continues to be a best practice in their strategy. This growing trend is due to the countless benefits participants experience every day.
We've spoken with procurement leaders to learn how cooperative purchasing has been a life saver for their agencies and heard examples of how they take advantage of the services available.
Cooperative purchasing offers immense value to your organization that may otherwise go untouched. All contracts in our portfolio have already been competitively solicited and publicly awarded by a lead agency so you can dedicate time and resources to other projects important to your organization. Partnering with a cooperative saves you time and money as you're able to benefit from tremendous buying power. You're able to do more with less due to the price reduction and power of the partnership.
Hear from 2 procurement leaders sharing why they continue to partner with a cooperative purchasing organization for success.
University Procurement Team Finds Comfort in Cooperative Support
Florida International University (FIU) Office of the Controller Executive Director of Procurement Services Kelly Loll Mayorga, C.P.M. shares how she and her university benefit from the partnership with a cooperative purchasing organization, expressing that they'd have been "lost without them during the pandemic."
"I have always used cooperatives to help support the procurement needs of FIU, says Loll Mayorga. "When your staff is small compared to the demand, it is important to use every tool in your toolbox, and cooperatives give me access to competitively bid contracts that I can piggyback in a very timely manner at competitive rates. During the pandemic, we relied on the cooperative for better strategic relationships with partners. During a recent quarter, we spent over $5 million on cooperative contracts and realized a savings of over $2 million during that same time period. We anticipate the spend to continue at this level or higher."
She and her team are working to purchase an Academics Operations Platform that can manage schedule optimization, curriculum and catalog management. Part of their strategy is to optimize efficiencies and streamline their process by leveraging cooperative purchasing.
"We are looking at best in class solutions and once we identify the solution that best meets FIU's needs, we will see if we can find a competitive solicitation that we can piggyback, including any cooperative contracts," says Loll Mayorga.
Housing Authority Finds Guidance in Cooperative Expertise
Already accomplishing organizational goals and finding success with his cooperative is Procurement Manager Jody Daniels at Athens Housing Authority in Georgia. Daniels has vast experience after 30 years with several different responsibilities within public purchasing. Like procurement leaders in other industries, his role has evolved over the years forcing him to look for new solutions and strategies to pursue and accomplish a diverse range of projects.
Daniels often looks to cooperative purchasing for strategic guidance and assistance to help his agency maximize value and increase savings in time, money and resources.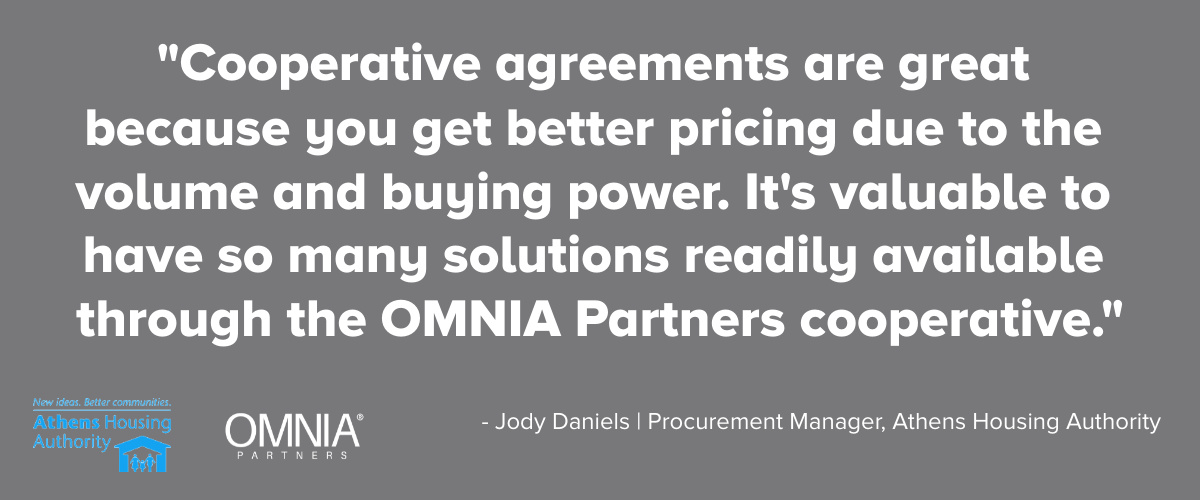 Your Opportunity for a Powerful Partnership
Beyond being able to purchase what you need, when you need it with cooperative purchasing, you acquire value for your organization in the form of a strong partnership with cooperative experts and suppliers. Your cooperative will be with you every step of the way helping you to optimize your time and budget.
All of our competitively solicited and public awarded contracts are always available to review on the OMNIA Partners, Public Sector website.
Interested in learning more? Connect with us today!