Schools are faced with keeping students and staff secure. In doing so, they increasingly are looking for digital solutions to replace analog documents and processes that log regular activity. As K-12 school districts implement these solutions, automating actionable alerts from the data produced so your security team can deter a problem before it happens can be an afterthought.
KEEPING THE RISK LEVEL LOW
Staff and students should feel safe inside classrooms, but also while they are anywhere on the school campus or even waiting for the bus. To accomplish this, schools log the comings and goings of students, parents and staff; may employ a combination of video and/or secure entry technologies; and trust staff members to recognize and report individuals who should not interact with specific students or be on school grounds. During the pandemic, they may have employed some health monitoring technology or protocols.

By having multiple solutions in place where you can monitor your facility, you can generally document incidents that occur. But, how do you deter a problem from occurring?
School security solutions should balance new functionality to improve the deficiencies of present systems with an eye on integration and automation of its output. This balance creates three main challenges in utilizing technology:
DETECTION
Schools struggle with a scalable way of identifying blacklisted individuals on school premises. Moreover, with a renewed focus on health screening, schools do not have a scalable way of collecting and reporting daily health or vaccination status for health code compliance. A video security system should be able to assist with face detection, recognition, temperature screening, and mask detection.

As an example, schools experience issues with non-custodial parents trying to pick up their children after school. Solutions that deploy a video security solution with these detection features can increase security through the automation of the recognition and alert workflows when a non-custodial parent is on school premises.
REAL-TIME ACTION
Visitors typically go through a slow and manual verification or simply a logging process. The lack of integration between visitor management, video security and background check systems do not provide automated and proactive alerts. Audio/Visual alerting, email/SMS notification, secure entry and/or tailgate detection, external system integration (API), health screening/consent forms and badge printing should all be options for your school.

Outdated manual buzzer systems – where a parent must check-in with an office administrator before they get buzzed-in – is an example of a lack of integration. It is slow and prevents the office administrator from focusing on high-value tasks. Integration and automation allow control of visitor entry where office administration intervention is only necessary when alerted.
ANALYTICS AND REPORTING
Where schools are just beginning to engage with the deficiencies of their current systems, they likely recognize there are operational costs associated with the limited efficiency without an automated and streamlined system. As cybersecurity continues to be a growing concern for all organizations, single-function point solutions have privacy and encryption concerns. The analytics and reporting of any system should be automated, ease compliance/auditing requirements, report on visitation and traffic trending and ensure privacy/CCPA compliance.

A common issue for many schools is incident investigation. Although their existing video security system may have footage of said incident, it takes hours of manual combing to find the relevant footage. The time between the incident occurring and an investigation being concluded needs to be fast. An integrated video security solution can search for individuals and their corresponding timestamped footage in order to reduce investigations from hours down to minutes.
---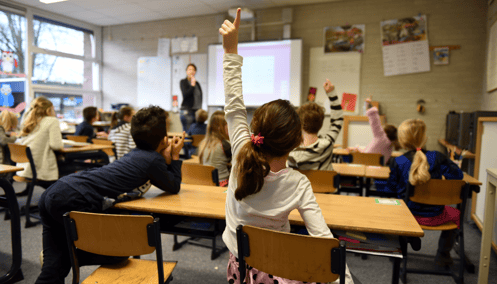 A solution that addresses these challenges enables K-12 school districts to take control of their facilities' security and utilize applications for detecting individuals that are out of place, heading in the wrong direction or removing something they should not be taking. By combining the video captured through video security solutions with a platform that integrates with business applications, transactions are monitored, analyzed, and reported on in real-time, allowing swift action to be taken when error is detected.
From operational efficiency and intruder detection to facility security, Konica Minolta Video Security Solutions and FORXAI Video Security Solutions for Secure Access provide the data, clarity, reliability and flexibility that you need to respond to alerts, evaluate activity, provide internal & external security and employ the level of detection you need.
---
State, Education and Local Government agencies handle a multitude of tasks while having to manage a limited budget. They accomplish this nearly impossible task with a trusted partner like Konica Minolta through their wide range of technology, vertically focused solutions and IT Services.