The community of eSports fans and players is just as important as the in-game action. They continually interact through a myriad of physical and online mediums—and online engagement is a big part of how this community comes together. As a venue manager, you can leverage the online aspect of the eSports community to promote live eSports events, build excitement for them, and enhance fans' experience at your event. OMNIA Partners offers competitively solicited cooperative contracts through Irwin Seating Company that can help meet all of your eSports seating needs.
The Esports Community Is Like A Family
With advancements in video streaming and social media, eSports had already been growing. However, COVID-19 gave the community a boost as people were missing live events and gatherings. Virtually joining competition streams and watch parties gave people the connection they needed, bringing more people into this niche.
The strong sense of community in eSports is heightened by interactions between the pros and their fans. For example, the eSports outfit, Team Liquid, which has professional teams for popular games like Dota 2 and League of Legends and regularly interacts with their fans. From events posted daily on their website to sending handwritten letters to fans or calling them on the phone, Team Liquid understands the power of a strong eSports community. By nurturing these relationships, they maintain their fanbase and foster even more excitement about getting back into the arena to watch competitions in person.
Connecting With Esports Players & Fans Online
A highly tech-friendly group, the eSports community is very active on social media—especially while their in-person activities remain limited. The top social channels for eSports are Twitch, Discord, Reddit, Twitter and Instagram.
Social media in the gaming community is about interaction, where fans, pros, and game developers are in a constant conversation. They respond to comments and boost fan-generated content like fan art and cosplay, and they host virtual events like tournament watch parties or even charity gaming streams.
As a venue, these platforms are opportunities to promote events—but getting in on the engagement is a great way to build excitement and acknowledge the community aspect of eSports. Liking, commenting, and sharing content other than just your own event promotional posts bring your venue into the community.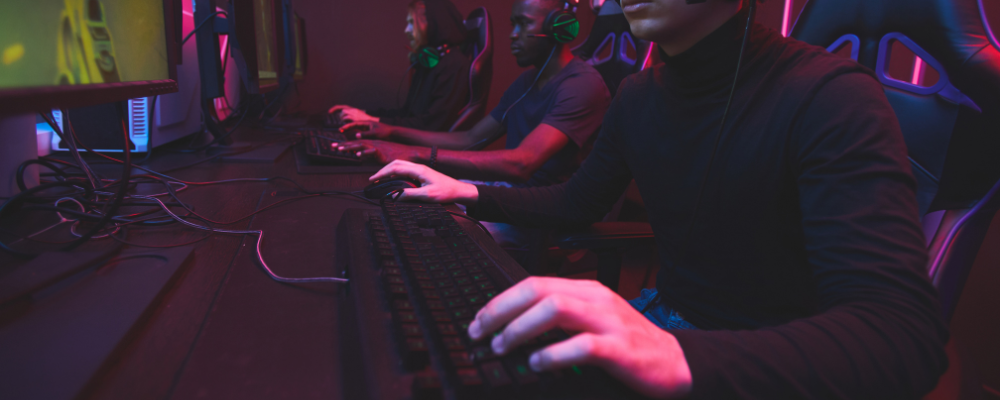 The Culture Of Live Esports Events
Just by taking a quick look at the online eSports community, you'll find pros, streamers, casual gamers, game developers, tech brands, artists, and cosplayers. With all of these people in one place for a live event there will be a lot going on. Here's some tips for hosting a great live eSports event:
Offer Year-Round Events
There are dozens of video games that are played professionally, and there is no designated eSports season as there is in traditional sports. That means you can host eSports events all year long and fill gaps in your venue's event calendar.
Embrace Digital
From simply creating a hashtag for your event to offering device charging stations or photo-op space, your guests will snap pictures and share their experience online—with the bonus of generating a buzz for your venue.
Going one step further, Irwin Seating Company can help you upgrade your venue's seating with USB power which allows fans to keep their devices going without leaving their seat and missing any of the action.

Embrace Esports Fandom
You've seen sports super fans—those who own every championship t-shirt and paint their face in their team's colors for game day. eSports fans are no different! Embrace the rich fandom of the eSports community at your live event. Whether it's a league tournament, a gaming convention, or a small local watch party, fans will show up in their best eSports gear and costumes. Encourage and embrace fans' creativity. The photo-op space and event hashtag will be especially important for boosting your venue as cosplayers love a space for unique photos.

Revamp Your Shop & Concessions
Beyond the stellar outfits, consider bringing eSports fandom into your venue through the concessions stand, such as:
Themed concessions, like snacks, sandwiches, or cocktails inspired by game characters or teams
Offering other gamer favorites, like Mountain Dew's Game Fuel energy drink
Selling event merch like t-shirts, posters, or mouse pads
eSports is an area that is only going to continue to grow as games get even better and more and more people tune in to watch. Engaging with the eSports community gives you an opportunity as a venue to offer more events year-round that bring quite a bit of fanfare with them, which will only draw more people in over time.
ABOUT OMNIA Partners & Irwin Seating Company
Irwin Seating Company goes out of their way to develop the perfect space for whatever seating solution you are looking for. Through the purchasing power of OMNIA Partners, participating agencies can leverage a cooperative contract with Irwin Seating Company to save time and money on their eSports league. To view the entire OMNIA Partners contract portfolio, click here. Not a participant? Become one today!