Creating a healthy environment for students to learn in is key to their success. One way to do this is by implementing a decarbonization solution into your schools.
Procurement and purchasing professionals hold the initial responsibility for establishing a safe environment for students. It is important to know your options and understand the different solutions available to you. You have the option to make this process easier by partnering with a cooperative purchasing organization that will guide you through the procurement process, assisting in selecting the appropriate solutions while saving you time and money.
With so many competing needs and unique challenges, it can be hard to know where or when to start shrinking your carbon footprint—let Trane and OMNIA Partners help you get started!
What is decarbonization?
Decarbonization is the process of implementing building solutions that prevent or reduce carbon gases from being released into the atmosphere. Doing so can help lay the foundation for state-of-the-art comfort systems, improved facilities and more cost-effective, energy-efficient operations.
Why is decarbonization important?
Decarbonization can reduce carbon emissions and operating expenses while keeping you ahead of change. Here's how your decarbonization process can benefit your school:
Increase energy conservation and maximize cost savings

Invest taxpayer dollars and government grants responsibly

Avoid unnecessary maintenance costs

Make classrooms more productive

Position your school as an energy leader in your district

Support a more sustainable community

Promote a cleaner planet and brighter future
Trane's 4 Pillars of Decarbonization
Trane approaches your school's decarbonization process through four essential pillars: energy efficiency, electrification, refrigerant management and renewable energy. These key ways to decarbonize can solve for a wide range of building and energy challenges.
Improving energy efficiency
Using less energy produces less carbon emissions from power plants. Since energy efficiency saves money, this is an easy starting point.

Example action items:

Add building automation to avoid using energy when it is not needed

Switch to high efficiency HVAC Systems

Upgrade to newer LED lighting and other energy saving measures

Make structural modifications to reduce heating and cooling loads

Electrification of heating
As the nation's power grid transitions to renewable energy sources, switching to electric heating reduces overall emissions.


Example action items:

Upgrade to heat recovery and hybrid dual fuel options

Apply innovative approaches using heat pumps

Add thermal energy storage to make electric heat practical in cold climates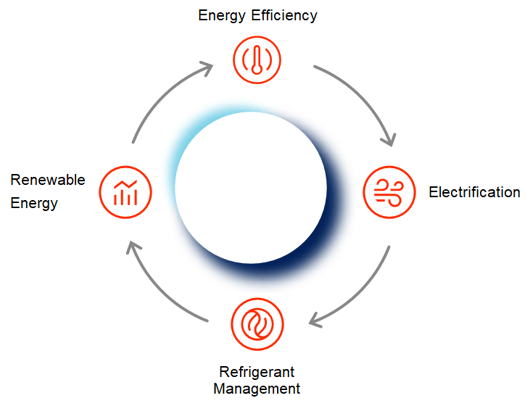 Supporting the transition to carbon-free energy
Engaging in solutions that prioritize solar, wind and other types of energy from sources that are natural and constantly replenished.


Example action items:

Purchase renewable energy from the grid

Add thermal energy storage to gain purchase and use flexibility

Generate solar and wind energy onsite

Prioritizing safe refrigerant use and handling
Minimizing potential greenhouse gas effects or refrigerants used in HVAC systems.

Example action items:

Transition to low global warming potential (GWP) refrigerants

Monitor HVAC systems for potential leaks
So, what is the number one thing that should be done to decarbonize school buildings?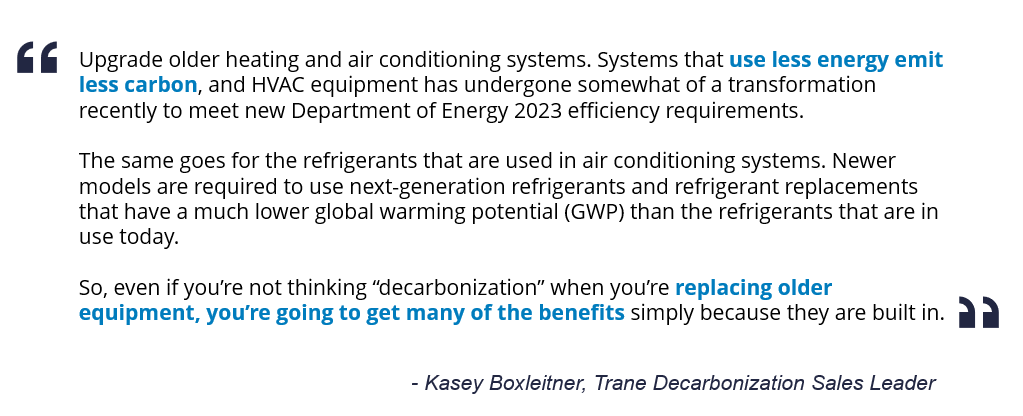 Read more about decarbonization in schools from Trane:
---
About Trane & OMNIA Partners
Trane, available through OMNIA Partners, helps customers succeed by providing innovative solutions that optimize indoor environments through a broad portfolio of energy-efficient heating, ventilating and air conditioning systems, building, contracting and energy services, parts support and advanced controls for homes and commercial buildings.
Get in touch with Trane today and start your decarbonization journey!