With remote network access, cloud applications, mobile devices and plentiful online opportunities in today's digital workplace and classroom, your risk of cyber crime exposure increases. IT industry insiders report that there are 30,000 websites being hacked each day across the world, and several organizations' online systems are breached up to five times throughout the year.
Procurement teams can leverage cooperative purchasing to get ahead of these cyber criminals and incorporate powerful protective solutions for the IT infrastructure within your school system, organization, or agency.
October is National Cyber Security Awareness Month, and we're outlining critical steps you can take with your cooperative purchasing organization toward IT solutions to safeguard your data.
Vulnerability to Cyber-Attacks & Cooperative Purchasing Solutions
As we're all susceptible to cyber crimes, it's important to note that right now IT experts are reporting an increase in the targeting of educational institutions and local/state government agencies.
We're looking at more detailed scenarios in which a cyber-attack could compromise your school district, agency, or organization + cyber security solutions you can gain through a cooperative purchasing organization.
Education: Record Breaking Cyber Crimes Against Schools
Remote learning and the increased use of technology in schools continue to stir up a higher risk for cyber crime. Now more than ever, K-12 administrators are working to become better protected as 2020 brought record high numbers of cyber-attacks in their schools.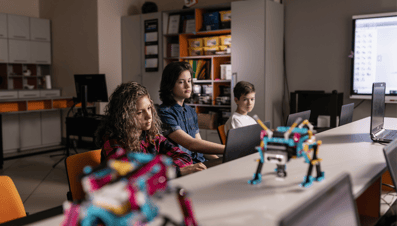 The Cybersecurity and Infrastructure Security Agency (CISA) reports that over the last year, they've investigated a large increase in hackers targeting school computer systems, slowing access, and rendering systems inaccessible to basic functions like remote learning.
In some extreme cases, hackers have managed to access virtual meetings and disrupt live-classroom settings where they've harassed students or displayed pornography. Cyber attackers have also gained access to personal information, sent emails to parents and students, and changed grades.
Ransomware attacks remain increasingly prevalent in higher education. You can unknowingly download ransomware onto a computer by opening an email attachment, clicking an ad, or visiting a website that's embedded with malware. Since the beginning of the pandemic, the number of attacks on higher education institutions has more than doubled.
Purchasing through a cooperative can connect you to OMNIA Partners supplier partner, Ricoh, who offers a solution called RansomCare. This solution delivers a 24/7 automated containment response to ransomware outbreaks as an additional line of defense after there has been a breach.
State and Local Government: Cyber Attacks Up Nearly 50%
Local and state government professionals handle confidential and sensitive information while working remotely or in the office. If compromised, those personal details could be used to commit identity fraud and other crimes that impact the daily lives of the citizens you serve.
To protect your agency and citizens, a best practice being utilized right now is implementing a Zero Trust Architecture Model. Gone are the days of having trust simply based on network location or IP address. With this model, verification is strengthened through identity, behavior, and context-based factors limiting access for users, devices, and applications.
OMNIA Partners supplier, DLT Solutions, offers participants subject matter expertise on a Zero Trust Architecture Model and other safeguarding solutions.
And as you continue to navigate the complex online environment, OMNIA Partners suppliers CDW-G, SHI, and Insight Public Sector also offer cyber security strategies. Each can help your procurement team lead the way in strengthening cyber solutions.
Leveraging Competitively Solicited Contracts
As you're up against the ongoing threats online, it's a critical time to evaluate your strategic cyber security plan in order to meet your school or organization's unique security and compliance needs.
Purchasing through the OMNIA Partners cooperative will help support your procurement team as you explore IT and cyber security solutions that best fit your protective goals.
Our contracts are competitively solicited and publicly awarded by government agencies and educational institutions serving as lead agencies while utilizing the industry's best practices, processes, and procedures.