It is important to take steps to ensure that your building is properly cleaned and maintained, especially during the winter season. Not only will this help to create a pleasant and welcoming environment for employees, customers, and visitors, but it can also help to prevent accidents and the spread of illness. Here are six tips for cleaning and maintaining your facility for the winter season.

At OMNIA Partners, we work with experts like Network Distribution who have insights into facility maintenance and janitorial & sanitation solutions that can save you valuable time and money and allow you to allocate your resources to other large-scale priorities.
In this blog, Network provides key steps that facility managers can take to ensure they are properly maintaining their buildings during the winter months.
Tip #1: Snow Clearing and Ice Melt
If your facility is in an area that gets a lot of snow, it is important to have a plan in place to keep walkways clear and safe. Keep a supply of shovels, snow blowers, ice melt and other equipment on hand to help clear and prevent slips and falls on icy sidewalks and driveways. Ice melt is a product that helps to melt snow and ice, making surfaces safer for pedestrians. Choose a product that is safe for the surfaces at your facility and follow the manufacturer's instructions for use.
Tip #2: Proper Matting
To help prevent dirt, slush, salt, and moisture from being tracked inside, the use of a high-quality matting system is recommended at the front entrance and other high traffic areas. According to ISSA, 85% of dirt will not enter a building if mats are properly placed and maintained, which is why it is important to incorporate a matting system at least 15 feet before your occupants reach your building's carpeted or hard floor. To remove dirt, debris, or wetness from shoes as people enter your facility, start by placing scraper mats on the outside entryway. Then, place wiper mats just inside the doorway to further clean shoe bottoms by removing soil as well as any remaining moisture. These mats will help keep your facility clean and safe by preventing dirt and moisture from being tracked inside.
Tip #3: Floor Care
Proper floor care is essential for maintaining a safe and welcoming facility. Sweep or vacuum floors regularly to remove dirt and debris that can be tracked in on shoes. Dry mop or dust mop floors daily to remove dirt and dust; and use a wet mop or floor scrubber with a floor neutralizer to clean floors, weekly or as needed. Floor neutralizers are specially designed to dissolve ice melt, dirt, and water film. Avoid using excess water when cleaning floors, as this can cause the floor to become slippery.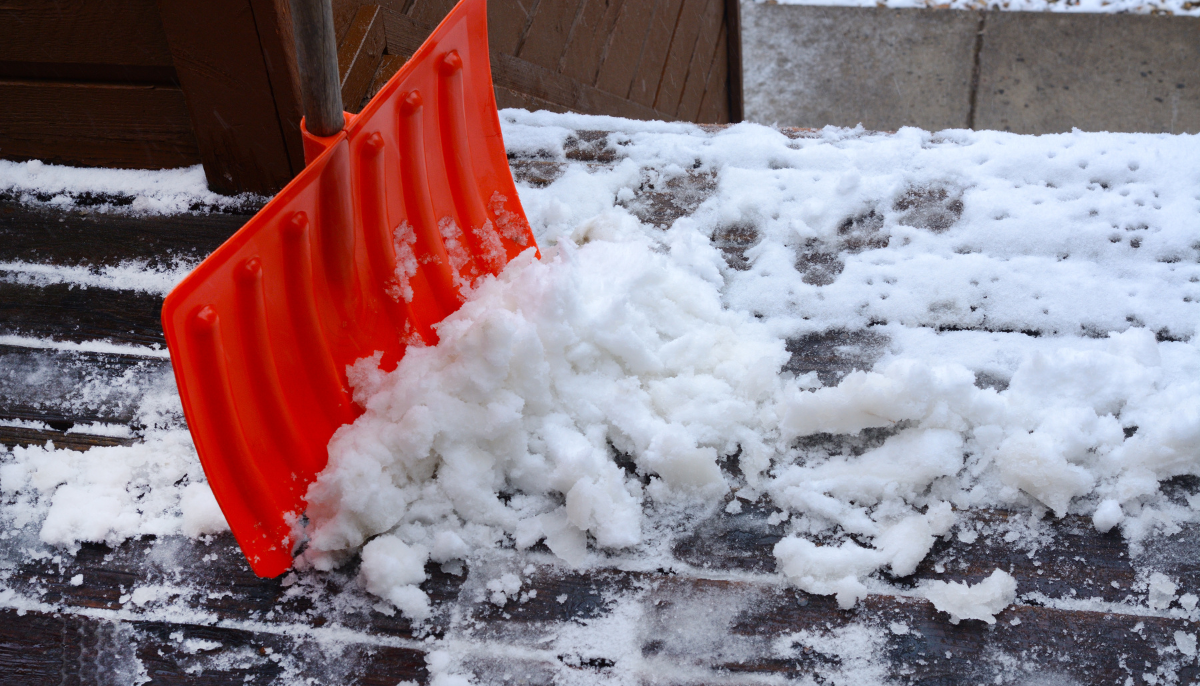 Tip #4: Increase Cleaning Frequency
With the potential for cold and flu, RSV, COVID and other germs to spread during the winter months, people are doing everything they can to stay healthy. It is important to regularly clean and disinfect frequently touched surfaces, such as doorknobs, handles, light switches, and railings, to decrease the chances of getting sick. Use a disinfectant that is effective against these types of viruses and follow the manufacturer's instructions for proper use.
Tip #5: Equipment
Inspect and confirm all cleaning equipment, such as mops, brooms, vacuums, and floor scrubbers, are in good condition. Replace any worn or damaged equipment to ensure that it is effective at cleaning and maintaining your facility. When not in use, store equipment properly to help extend its lifespan.
Tip #6: Staying Stocked
It is important to be prepared for any potential weather events that could delay shipments. To avoid running out of necessary items, it's a good idea to have extra supplies on hand in case of an emergency. This includes items like disinfectants and cleaning supplies, de-icing supplies, paper products, disposable masks, and hand sanitizer. By being prepared, you can ensure that your facility has the supplies it needs to stay clean and safe during the winter season.
By following these tips for cleaning and maintaining your facility for the winter season, you can help protect your employees, customers, and visitors, as well as keeping your facility running smoothly throughout the winter months.
Download the checklist below to ensure your facility is maintaining proper cleanliness during the winter season.
---
OMNIA Partners & Network Distribution
Through the power of partnership with OMNIA Partners, Network provides a variety of janitorial and sanitation solutions to local government entities, K-12 educational facilities, higher education institutions, and nonprofits. Supported by the power of local expertise, Network offers category knowledge, customizable supply management programs, and products from the industry's top suppliers. This competitively solicited and publicly awarded cooperative contract reduces the cost of goods and services by aggregating the collective buying power of public sector agencies and streamlining the buying process. Click here to learn more about how Network can provide solutions for your facility. Want to find a local distributor in your area? Click here!