Operational efficiencies are always at the forefront for members to improve their profitability and to take advantage of new technologies to make their business process accelerate.
But, more and more, investors, customers and regulators have their eye on how businesses are addressing their internal processes under the lens of Environmental/Social/Governance concerns. No action, no performance reporting – sends a poor signal to the community and sets a business up for financial risk as they are evaluated by their ESG scores.
If they have been aware of ESG and made strives to adjust their operations to report on performance, they are a step ahead. But, if they have merely been doing ad hoc reporting – across departments – to cobble together the information they need to prove ESG sustainability, then they are still grappling with how to best get the data and technology support they need to be transparent and achieve an ESG score of over 70.
What are ESG Initiatives?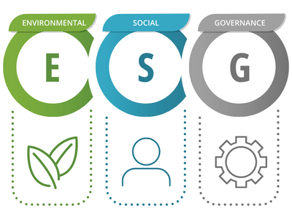 They are cross- department efforts to support 'what they do' in their business around the three key areas of ESG. The pressure that this places on leaders can have costly consequences. If hasty decisions are made to purchase so-called ESG point solutions or singularly focused technology, businesses may be throwing away millions of dollars and never achieve the goals they set for themselves.
In this 3-part blog series, we will discuss the technological impact businesses feel on their path to building an ESG program starting with the E segment.
Environmental
E is for Environmental. Sustainability reporting for large corporations is nothing new. Programs and legislation such as the Kyoto Protocol, Cap and Trade, and the Clean Air Act all serve as examples of frameworks designed to provide guidelines and standards for environmental impact.
SEC REQUIREMENTS

Recently, though, the Securities & Exchange Commission (SEC) proposed sweeping changes to ESG disclosures and reporting requirements for all publicly traded companies to provide transparency to investors. For the "E", disclosures pertaining to CO2, greenhouse gases (GHG), as well as the climate-related risks associated with water, energy, land use, and waste management represent only some of the information companies will be mandated to provide.

E- CHALLENGES

These changes, while not completely finalized, create a significant new obstacle for companies that were previously not required to provide information at such a granular level, let alone be able to certify the data. Additionally, businesses that operate globally will have to contend with multiple reporting frameworks, as many countries have defined their own Environmental Reporting criteria.
To solve these challenges, businesses must enlist the help of industry experts, that can help automate the collection, aggregation, and presentation of the findings in a clear, meaningful, and consistent manner. Using technology to support the performance reporting – helps a company comply more effectively with the regulations and enable them to put in place the processes they need across departments to collate, analyze, track and report.
Planning is Important
With marketing intelligence firm, IDC, estimating that ESG business services spending will grow to $158 billion by 2025, organizations who want to successfully report on their Environmental programs will need a plan that incorporates technology, quantitative analysis, and secure access to information.
Areas businesses should consider when investing in technology to assist with the Environmental segment of ESG:
Collecting the Data
In a Matillion and IDG study, "20 percent of companies surveyed were drawing from 1,000 or more data sources to feed BI [Business Intelligence] and analytic systems." That number grows when you consider the need to report data on supply chain vendors, as it relates to the "E."
To assist with the enormous amount of data an organization will need to ingest, a robust capture solution is recommended.

Once in place, the capture solution can automatically pull data from most sources, even if it resides in a vendor's application. Further, tools like this can assist with the aggregation of data, normalizing the information so that it can be properly analyzed.

Perspective: Oatly, a plant-based food product company, requires nine months and 50+ employees to complete their annual sustainability report.
Presenting the Results
While much of a business's need to present its environmental impact stems from regulatory enforcement, consumers are interested in understanding it, too.

In a recent PWC study, 80 percent of consumers said they were more likely to buy from a company that stands for the "E" in ESG. It, therefore, becomes a necessity that this information is readily available and easy to access.
When important information resides across an organization in different department, it can be difficult to aggregate what is needed to present the true E picture. A case or incident management solution allows for aggregating the relevant data and ensuring it is kept in a centralized place around a case.


Corroborating the Story
Veritas, or truth is one of the largest challenges organizations will face when reporting on their "E." This arises from the sheer number of data sources, which are often external, that an organization must ingest, analyze, and present with a reasonable amount of accuracy.

Organizations that are caught greenwashing, a deceptive practice that purports false claims about environmental progress, to attract public attention, will face regulatory and business ramifications in addition to the backlash and loss of credibility with consumers.
For this reason, accuracy, and corroboration (preferably by an accredited third party), are vital to ensuring that only fact-based information is released.
From data capture and analysis to incident case management Konica Minolta Intelligent Information Management solutions provide the necessary automation, process management, and audit readiness that you need to power a successful ESG plan within your business.
For more information, contact your OMNIA Partners sales representative and Konica Minolta team.
---
ABOUT KONICA MINOLTA AND OMNIA PARTNERS
Discover solutions to help your business operate more efficiently, provide more effective services and make the most of your budgets. Whether you are in search of high-quality cybersecurity solutions, video security services, Intelligent Information Management, and so much more,
Konica Minolta
's competitively solicited and publicly awarded
contract
available through
OMNIA Partners, Private Sector
can help.