As more workers return to the office, they may find the office is adapting to a new way of working. Attractive and ergonomic workspaces are top-of-mind for companies looking to entice their best employees back into the building. For many employers, it's a move to renew workspaces and re-energize productivity.
Comfortable office chairs, stand-up desks and vibrant shared spaces go a long way toward easing the transition from the couch to the office. Few companies have fully staffed teams for office design and furniture procurement. A group purchasing organization, such as OMNIA Partners connects you with subject matter experts, market-leading suppliers and optimal pricing.
Lisa Merder, our resident subject matter expert for furniture and workspaces, explains the breadth of member services offered through a group purchasing organization.
Read how beautiful workspaces are enticing people back to the office.
A study by the Stanford University Institute for Policy and Research found that only 49 percent of work-from-home employees in 2020 had a private workspace in their home other than their bedroom. Privacy furniture and upscale office chairs are two trends addressing the downsides of working from home. While some people may prefer to work from the kitchen table, companies are using comfortable and stylish office furniture as back-to-office incentives.
Leveraging a Group Purchasing Organization for Furniture Procurement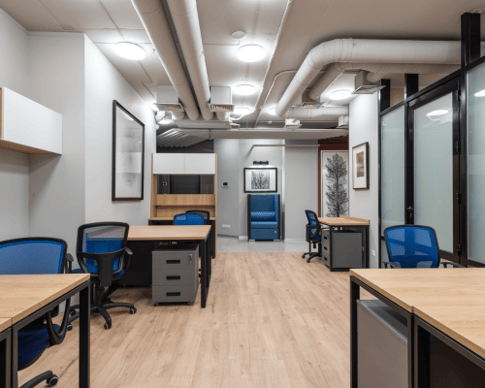 Office reconfiguration is a big job, especially for a lean staff. Design teams at furniture suppliers can step in to help with office design and furniture choices. Supplier Partner MillerKnoll offers aggressive discounting with easy-to-reach project tiers. Pre-vetted contracts enable companies of all sizes to access discounts and services they could not achieve on their own. Services include:
Free product samples
Reduced deposit requirements.
Expedited punch list resolution.
Design services
Leasing options
3D drawings and renderings
BOM & as-built drawings
"Here at OMNIA Partners, we have furniture and interior solutions for wherever you're at in your journey," said Lisa Merder, Vice President of Workspace and Solutions. "We can take you on showroom tours to touch and feel products from market-leading furniture suppliers including Office Depot Workspace Solutions, Hon Office Furniture, SitONIt Seating and MillerKnoll."
Returning to the office is an opportunity to re-invent workspaces. It can also mean extra work for procurement professionals. By acting as an extension of your procurement team, a GPO enables you to offload sourcing so you can focus on initiatives to ease back-to-office workloads.
Ready to learn more?