Campus dining programs have a way of bringing students together to connect and share stories. Those connections happen at all hours across locations from food courts, catered events or the sports arena. However, with product shortages, inflation, food delivery and off-campus competition in the mix, the challenges around sourcing food for a college or university are complex.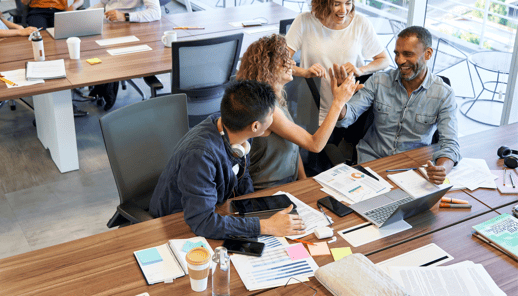 Keep reading to learn how a procurement partner gives you time back in your day.
Finding the right cooperative purchasing partner can simplify the complexities. If cracked egg prices are on the rise, you may need to pivot to liquid eggs. Cooperative purchasing can be an extra layer of support for market swings, supply issues and budget challenges.
Whether you are adapting the program for your needs or conducting a personalized bidding process, cooperative purchasing is an option to leverage nationally scaled pricing and enhanced service levels while maintaining flexibility to get creative with innovative menu items or evolving food trends.
"Our cooperative purchasing contract enables our operations to optimize procurement through competitive pricing with virtually no purchasing work on our end," said Pam Peterson, Executive Director of dining services at University of St. Thomas Minnesota. "No calling multiple vendors to secure the best pricing."
OMNIA Partner resident subject matter expert Vanessa Perutelli explains the value of leveraging a cooperative for your higher education food purchasing strategy.
Benefits Beyond Cost Savings
Trusted and compliant lead agency contracts
Flexibility in sourcing custom food products or equipment
Data support including savings and spend tracking
Managing supply issues
Reduce the impacts of inflation or market swings
Ongoing support for year-over-year value
Cooperative food programs do not interrupt your existing relationships with suppliers. They ensure stronger supplier service levels. By combining purchasing power, colleges and universities, big and small, public and private, gain speed, efficiencies and bargain pricing.
Purdue University continues to benefit from a partnership with US Foods and OMNIA Partners. The university's food program serves an average of 20,000 meals a day. The partnership powers access to on-trend menu items, easy access to data and on-time delivery.
Watch a video with Purdue staff explaining their experience with group purchasing and the value of stronger supplier relationships.
Public Sector Cooperative Contract Portfolio
OMNIA Partner agencies have access to a portfolio of competitively solicited and publicly awarded cooperative purchasing contracts. Contracts are awarded by elite procurement teams across the nation through a lead agency model. Our contracts are awarded by government entities using fully transparent best practices.
Browse our portfolio of public sector contracts.