Shipping bottlenecks. Labor and product shortages. Resource availability. There are major supply chain issues knocking on procurement's door causing professionals to pivot and adapt to the current market. You're probably having issues getting the materials you need, finding talent, and struggling with freight and logistics because of these ongoing challenges.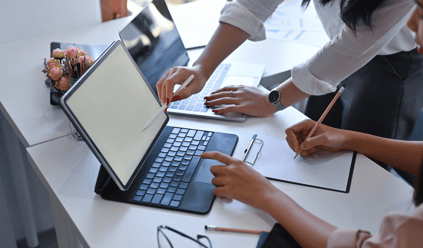 Making and maintaining strong connections is one of the most important ways to ensure strategic maneuvers in the marketplace. Procurement and supply chain managers can look to a group purchasing organization (GPO) to open them up to stronger connections with industry-leading national suppliers.
Keep reading to learn three ways a GPO helps deepen your supplier relationships when you need them most.
1. Achieving Power and Scale
The current marketplace is complex and unfamiliar. Purchasing teams must have more creativity and flexibility as their organization and stakeholder needs may have evolved over the last year. Instead of experiencing delays working to build relationships on your own, a GPO partner has already combined the purchasing power of collective businesses to leverage better pricing, service levels, and account representation from suppliers.
The GPO's industry-leading national suppliers invest a lot of time and money in their inventory, warehouses, and technology. The smaller, local or regional suppliers you may be using typically don't have the same purchasing power or the millions of square feet of warehouse space and trucks that a GPO's suppliers do. This power and scale can help alleviate the supply chain issues and shortages companies are facing.
The relationships between a GPO and its suppliers are often deeper than any procurement or supply chain team could establish on their own, and leveraging the GPO's deep vendor relationships could be the single most powerful thing your organization needs in a volatile market.
2. Managing Total Cost of Ownership
"Other than just looking at availability of products, another lens we're hoping procurement looks through is the lens of total cost of ownership or TCO."
- Stephen Laratta, VP, Strategic Supplier Relations - MRO & Facilities, OMNIA Partners
When it becomes tough to source products and services you need, you might rush into whatever option is available. While this might get you a quick solution, it's important to also focus attention on total cost of ownership (TCO), which involves analyzing all the additional costs that may arise during a product's lifetime.
Procuring the quickest and cheapest option might backfire later when you're continually having to pay for maintenance or replacing the product soon after purchase or experience delays in production. Procurement is more than just cost minimization. You're tasked with considering the risks associated, such as the downtime you'll experience for installation, routine maintenance, and repairs.
As you begin your next transaction, leaning on your GPO's supplier relationships can help minimize your company's risks and allows the group purchasing team of experts to guide you through managing TCO.
3. Monitoring Relationships
A group purchasing organization's supplier partners have unique capabilities, and in today's environment, strategic GPO suppliers can bring better efficiency to your operations. Procurement leaders are managing a large spend cube with several categories and may not have the time or resources to effectively manage relationships with each of their suppliers.
When procurement goes the group purchasing route, the GPO team continues to negotiate contracts on your behalf, applying group leverage to all aspects of the spend category. This team monitors the supplier relationship to ensure your organization is getting the best possible value.
Think about the time and energy you'd spend establishing and maintaining those supplier relationships on your own. Not only does the GPO provide time savings on administrative work for purchasing teams, it also diverts cost to the production floor where your colleagues are producing and creating products for your company.
As we deal with market challenges, product and labor shortages, there's ongoing communication between the GPO and supplier partners to discuss problem-solving ideas, innovation, and product development.
GPO Supplier Relationships Become Your Relationships
A GPO can be your trusted advisor to navigate a rocky marketplace. You have the opportunity to start purchasing right away, even in times of crisis, because of the established and meaningful relationships already set up through your group purchasing organization.
The OMNIA Partners robust portfolio is made up of industry-leading suppliers with innovative products and solutions that'll help your organization succeed in any economic environment.