Gilbert School District prides themselves on educational opportunities and a wide variety of programs and extracurricular activities. From athletics and enrichment to gifted education and theatre, their spread of programs is impressive – so they also needed impressive facilities! These facilities also include some custom seating designed just for Gilbert USD.
---
Irwin Seating Company is proud to partner with OMNIA Partners to bring the best seating at the best price to K-12 school districts across the Unites States. Gilbert USD is one of the many to take advantage of some of the benefits.
---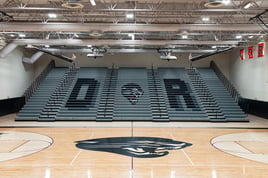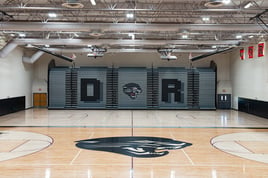 Within Gilbert School District, Desert Ridge High School and Mesquite High School both feature Irwin seating. At Desert Ridge High School, they were able to customize their space with an iScape design for their VersaTract bleachers to showcase their school spirit with a large Jaguar decal. Their gymnasium is now equipped to seat 1,700+ fans in Irwin's Infinity Seat Modules with smart rails, side curtains, and ADA sections to complete the perfect facility for high school sports.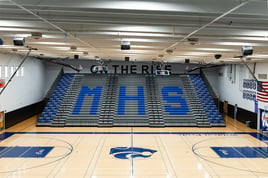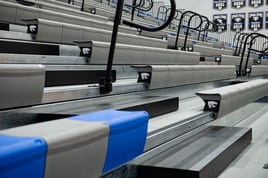 Mesquite High School features Irwin Seating Company in its gymnasium and auditorium. Two great venues that serve their audiences with the best possible seating. Mesquite showcases its school spirit proudly in all aspects of design throughout its campus. Their auditorium holds 885 attendees or students with options for either classrooms or entertainment. Of the 885 seats in their auditorium, Mesquite took the opportunity to include 220 Marquee chairs with writing tablets to accommodate two partitioned classrooms. In their gymnasium, they can seat 1,700+ fans in Irwin's Infinity Seat Modules with screen-printed curtains and aisle-end logo plates. On top of the fan seating, Mesquite also added a film platform for local TV coverage, game video, and photography.
With these two successful projects completed, Gilbert School District wasn't quite done with their grand renovations. Their newest project with OMNIA Partners is a recurring auditorium contract showing Irwin's Marquee chair. They will feature Marquee chairs for their upcoming projects. This custom chair will show off school spirit with hand-selected fabrics and finishes to fit their branding.
Irwin Seating Co. And OMNIA Partners are here to make the process of choosing, installing, and enjoying your custom fixed seating as seamless as possible. With a variety of products to pick from to create your custom gymnasium, stadium, or auditorium, Irwin is here to make every space a comfortable one. Plus, we know that schools are on a strict schedule to get things done during the summer months and Irwin Seating is known for their quick delivery and professional installation.
From your first contact to the final look, Irwin Seating Company and OMNIA Partners not only helps you save money but also saves you lots of time and planning. Irwin Seating will not only help you plan and design your project, they have a dedicated and trained team of installers so that you can sit back and relax during the final stages of installation. In addition to Irwin's team of experts, you can speed up your project timeline through the use of a cooperative contract through OMNIA Partners. The contract with Irwin Seating through OMNIA Partners is competitively solicited, publicly awarded, and adheres to the highest standards of public procurement - ensuring you are in full compliance with industry regulations.
Irwin Seating Company manufactures all products on the cooperative contract through OMNIA Partners in the United States out of Grand Rapids, Michigan and Altamont, Indiana. Irwin has one vision in mind – YOURS! Their team of experts help you bring it to life with custom upholstery, finishes, and design concepts. Our teams want you to take a seat and relax through the process. Let us do the heavy lifting, so that you can enjoy the show.


About Irwin Seating & OMNIA Partners
Irwin Seating Company is one of the world's leading manufacturers of audience seating for movie theatres, auditoriums, arenas, performing arts centers, stadiums, and places of worship. Seating is their only business, and public seating products are the only products they manufacture. In addition to auditorium and theatre seating, Irwin Seating manufactures stadium seating, lecture room furniture, bleachers, telescopic platforms and provide the industry's most comprehensive restoration services.
Solutions from Irwin Seating are available through OMNIA Partners, the largest and most trusted cooperative purchasing organization for public sector procurement. By utilizing the competitively solicited and publicly awarded cooperative contract with Irwin Seating through OMNIA Partners, you can save time, money, and resources during your next project.
Connect with Irwin Seating