Sustainability within organizations involves a range of strategies including recycling, energy reduction and waste minimization. A notable 69% of B2B buyers prioritize sustainability1, leading to partnerships with credible vendors. Implementing sustainability in procurement and facilities management poses challenges such as research, storage, hygiene, and cost considerations. In addition, procurement teams often find it challenging to grasp how buying choices can influence organizational sustainability objectives. By partnering with eco-conscious suppliers, facility managers and purchasing teams can help their organization take one step closer to attaining a greener future.
Enter Kimberly-Clark Professional's Responsible Partners initiative, available to participating agencies of OMNIA Partners through your selected distributor's cooperative contract. Product designation icons clearly call out towel, tissue and soap SKUs that feature attributes like composability, compact packaging, and responsible transport, making it easy for facilities to identify and select sustainable solutions.
Keep reading to discover how to identify products that earn the Responsible Partners designation. HINT: They must have at least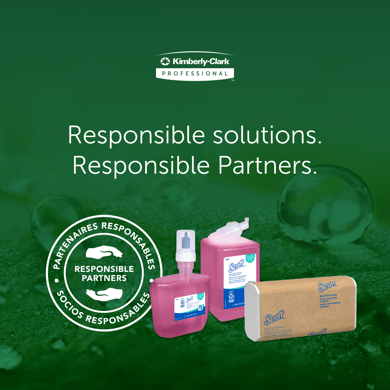 THREE of the benefits mentioned below.
1. ECOLOGO® Certified: The ECOLOGO® third party certification serves as an emblem for products adhering to stringent environmental standards. This accreditation addresses concerns of greenwashing and assures consumers that sustainability claims are validated independently.
2. Reduced CO2: Products labeled this way have reduced CO2 through improvements in production, transportation, or usage that minimize carbon emissions. Such optimization aids in the fight against clime change and reinforces an eco-conscious stance.
3. Compostability: This approach alleviates landfill burden and promotes sustainable disposal practices because these products can break down into nutrient-rich compost.
4. Recycled Fiber: Selecting products made from recycled fiber is a strategic step towards reducing the demand for virgin resources. This choice helps combat issues linked to deforestation, habitat destruction, and resource depletion.
5. Compact Packaging: Efficient packaging minimizes material usage and optimizes storage and transportation without sacrificing quality and performance. By curbing excess waste and inefficiencies, businesses can make strides towards sustainable supply chain management.
6. Recyclable Materials: The incorporation of recyclable materials enables products to be collected, processed, and repurposed. This approach diverts waste from landfills and oceans, promoting a circular economy.
7. Renewable Energy: By harnessing renewable energy sources like solar and wind power, businesses can reduce their reliance on fossil fuels. This shift not only reduces a product's carbon emissions but also contributes to a cleaner and more sustainable energy mix.
8. More Efficient Formulas: Skincare products featured in the portfolio feature foam formulations, which are more efficient than
gel formulas. Foam skincare formats use just 35% the amount of liquid used compared to gel skincare formats2.

Infusing sustainability into facilities management has profound implications. Facility managers and procurement professionals can take advantage of this initiative to help enhance talent retention, cut costs, and boost efficiency. The Responsible Partners washroom bundle promotes an eco-friendly approach to restroom management by integrating sustainable practices into daily operations.
This journey begins with small steps—adopting Responsible Partners marks a significant stride toward a greener future. To view the solution bundle, which is available through OMNIA Partners, click the flyer to the right.
Want to chat with a dedicated expert and get started? Click the button below.
---
About OMNIA Partners & Kimberly-Clark Professional
Kimberly-Clark Professional partners with you to create exceptional workplaces, making them healthier, safer and more productive. We create full-service solutions tailored to your needs and leverage our unmatched portfolio of trusted brands to elevate the way people experience your business and what it stands for. Kimberly-Clark Professional products are available to participants of OMNIA Partners through your favorite distributor's contract. Kimberly-Clark Professional brands include Kleenex®, Scott®, Cottonelle®, WypAll®, Kimtech™, and KleenGuard®. To view the entire OMNIA Partners contract portfolio, click here. Not a participant? Become one today!
1Amazon Business. September 28th, 2022. " Amazon Business' 2022 State of Business Procurement Report Highlights Opportunities in E-Procurement." [URL]
2Amazon Business. September 28th, 2022. " Amazon Business' 2022 State of Business Procurement Report Highlights Opportunities in E-Procurement." [URL]