When it comes to the classroom, it's important to consider ergonomic furniture that's designed to flex and move with ease to help students find the position and space where they work best.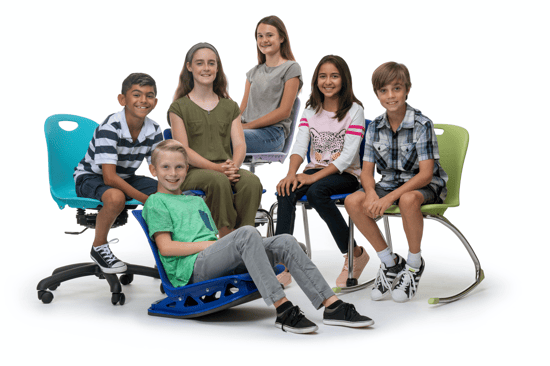 We intuitively know that moderate movement can improve focus and concentration. Sometimes the simplest thing can help, like standing up or bracing your legs on a footrest. As a result, we all naturally engage in dynamic sitting, which involves moving our arms and legs or adjusting our position for comfort in order to stay alert and engaged.
This type of movement is beneficial for students in classroom settings too. As children's brains develop, sensory systems that respond to movement help cultivate the fine motor skills that are at the foundation of learning. These sensory systems help coordinate the eyes, hands, and bodies of children as they move and grow. Healthy movement facilitates such growth while helping children feel active and alert–even while seated.
Healthy Movement FAQ's
What is "Healthy" Movement?
| | |
| --- | --- |
| | Humans are programmed to move. A young developing brain requires various types of motion to develop important foundational skills for learning. The sensory systems that respond to movement help to coordinate the eyes, hands, and body for everyday fine motor and gross motor activities. "Healthy" movement refers to safe and accessible opportunities for motion that help everyone feel organized, alert, fit, and ready to learn. |
What is the role of "Healthy" Movement in the classroom?
| | |
| --- | --- |
| Parents and adults tend to want children to "sit still." The reality is no one sits without moving for very long because if we keep our bodies completely inactive, we tend to fall asleep or zone out. Dynamic sitting involves making adjustments to our position for comfort and moving our arms, legs, and body while we are sitting, in order to keep ourselves alert and engaged. Children who have access to healthy movement in the classroom are more likely to stay engaged and to have better attention and behavior. | |
If children have chairs that move at school, won't they be disruptive?
| | |
| --- | --- |
| | Children are already moving in their chairs because they need movement to stay alert. In stable or static chairs many children will tend to tilt backward, lean forward, swing their legs, and sit on the edge of their chairs or on their knees. Studies have shown that after about a 2 week "settling in" period, children with access to chairs that provide healthy movement only move as needed to stay comfortable and to attend to the lessons throughout the day. In fact, several studies suggest that children show better ability to stay seated, with less disruptive movements, when they have access to chairs that offer healthy movement. |
Healthy Movement Furniture for Today's Classrooms
Virco offers products that support healthy movement in the classroom with a line-up of seating that lets students move in their seats without leaving their seats. Our Room to Move® collection includes ergonomic seating that flexes and rocks, chairs that roll and swivel, and tables and desks that adjust from sitting to stand-up height and can work alone or nest together–all designed to move with ease and help students find the position and space where they work best.
About Virco & OMNIA Partners
As America's leading manufacturer and supplier of classroom furniture and equipment, Virco serves the education community and other public agencies with a cooperative contract available through OMNIA Partners, Public Sector. Virco offers flexible furniture that meets the needs of today's evolving spaces with easy-to-maintain solutions that support healthy movement as well as individual and collaborative learning set-ups. To learn more about Virco products available through the OMNIA Partners portfolio, visit the Virco microsite or sign up with Virco today.