Facilities management (FM) in a manufacturing or warehousing environment covers the support services that are necessary to ensure the smooth operation of everyday production and distribution. The annual spend amount can be significant and includes both goods and services. A substantial portion of the spend involves Maintenance, Repair, and Operations (MRO).
The FM category can represent 10 to 25 percent of total indirect spending. Procurement is always under pressure to reduce costs and FM is an attractive target. It is easy to cut budgets and trim expenditure in the short term but there will be repercussions later. Assets and equipment deteriorate over time without due care and attention. Maintenance costs may be higher in the long term.
---
What Does Facilities Management (FM) Cover?
FM is a very broad category and may include hard and soft solutions like, roofing, flooring, janitorial, maintenance supplies and services, energy management, and waste management. It can be fully outsourced, i.e., managed exclusively by a full-service FM specialist company on your behalf. The benefits of outsourcing are many: reducing overhead costs, better governance and compliance, access to the latest technology and more time to focus on the core business.
Many companies manage their facilities using a host of external third-party contractors for the main functions, alongside in-house support teams for some other services. Due to the diverse nature of the many tasks involved, FM is a demanding category with many sub-categories, sometimes called commodities.
Example of an Facility Management Category Structure: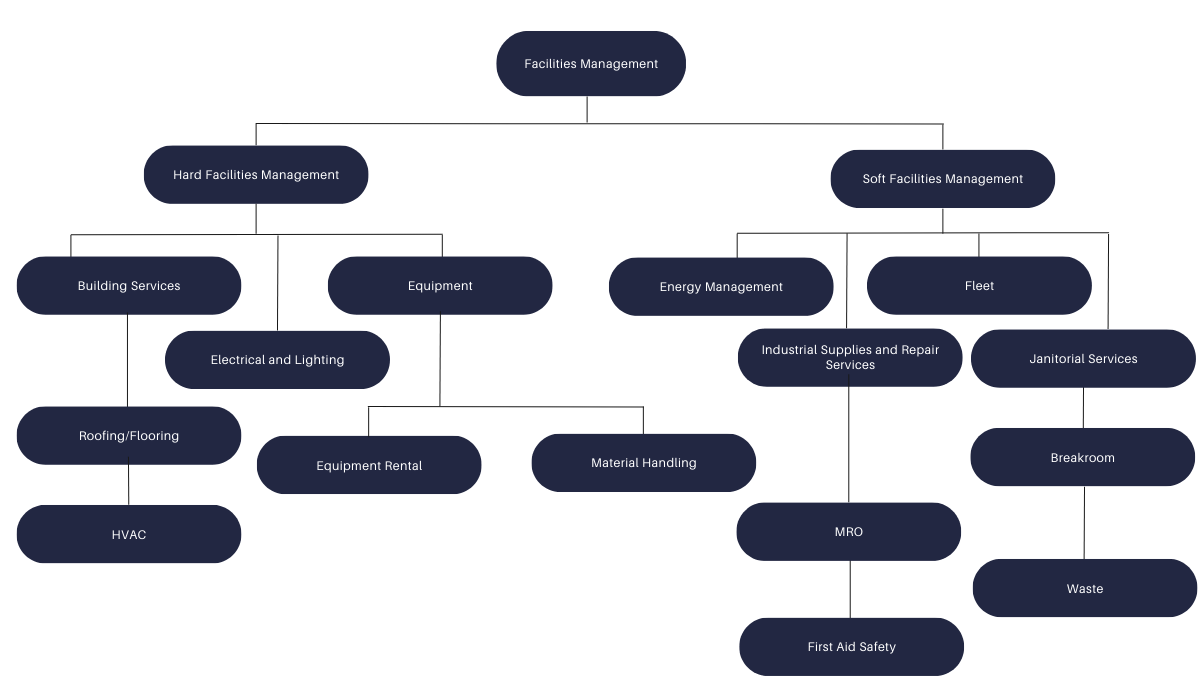 Managing MRO in a manufacturing facility is a critical function and a challenge: multiple sites and locations, hundreds of commodities, even more SKUs, establishing safety stock levels, data management and spot buys. Excess stock takes up space, it is also costly to dispose of redundant items.
Sourcing and contracting with multiple suppliers for industrial spares and repair services to keep the organization in business is resource heavy and requires expertise. Establishing the correct stock levels to avoid stock-outs and overstocking is the basis of an efficient inventory management system. Many FM companies include vendor-managed MRO services in their product offerings creating cost savings for the client.
Why Companies Choose to Outsource FM
The cost of managing the wide range of FM functions internally is too high. FM suppliers can offer economies of scale for the purchase of low value/high volume items and consumables.
The shortage of skilled personnel in many sub-categories. Deciding on when-to-maintain and when-to-replace equipment and machinery requires technical expertise.
Managing the large blocks of data and reporting requires the application of supporting software. Suppliers providing FM services have the capacity and ability to assist.
Supplier Relationship Management (SRM) in Facility Management
The success of the procurement process is judged by how well the goods and services meet the requirements of the stakeholders. Even the best contracts need to be nurtured. Agreeing and monitoring service level agreements (SLAs) and key performance indicators (KPIs) with suppliers is part of SRM. Building trust and building relationships and takes time and effort. This is particularly relevant in FM.
The Trend in FM
According to McKinsey, the global market for in-house and outsourced FM is estimated to reach $1.9 trillion by 2024. The use of technology tools in FM is growing but it is still in an early phase of adoption. There are some interesting developments in technology that will change the face of FM in the next few years.
Automated cleaning equipment using mobile technologies and robotics.
Intelligent systems that schedule asset maintenance and replacement parts
Energy savings through monitoring, measurement, and verification of HVAC
Automated access control and security to provide a safer environment
Traffic management and parking
Where a GPO Can Be a Game-Changer for Facilities Management
GPOs work with procurement teams that do not have the capacity or expertise to manage FM across multiple sites, locations, and categories. OMNIA Partners has contracted suppliers in a wide depth and breadth of sub-categories to help you reduce costs and simplify your administration. As a member, you enjoy the competitive pricing of goods and services due to our volume leverage. OMNIA Partners enables facilities management by putting the right people, tools and technology in place to support your procurement process for critical facility categories. These facility management contracts with elevated terms & conditions and SLAs paired with savings are not possible to achieve by individual companies.