Marketing an esports program is no easy task. It's important for higher education institutions to know what students are looking for, why they might choose one school over another, and how IT professionals can work with internal stakeholders to invest in programs that support recruitment. A robust esports program can become an effective marketing tool for colleges and universities, but only with thoughtful planning.
CDW•G Education Strategist, Doug Konopelko, shares common mistakes that higher education institutions make in esports programs, and how some schools avoided these pitfalls.
1. Boost Recruitment with Savvy Esports Marketing
Networking capabilities, fast processors and high-quality graphics cards are all huge selling points for any esports program. What is most exciting about esports programs are things you can't necessarily see. But when it comes to recruitment, it's all in the optics.
Prospective students want to see esports arenas that are decked out with flashy LED lights, branding and school colors. A generic, repurposed computer lab under fluorescent lights isn't going to cut it, even if all the tech is there. First impressions are everything, and students need a visual indicator that the university they're considering is investing in their esports program's overall look and feel, in addition to the technology.
2. Integrate Esports into the University Community
An esports program that's integrated with the larger school community — whether academically or as a student organization — is another selling point for prospective students. A robust esports program can be a gateway to myriad technology and creative careers. That's why Sari Kitelyn, the director of esports and project development at Florida's Full Sail University, has closely linked esports with academic programs. In addition to the university's degree programs in game design, other fields of study, like animation, make use of the esports program's gaming systems for the best possible learning experience.
A growing number of higher education institutions are incorporating esports directly into the curriculum by offering majors, minors, concentrations and certificates. For example, Florida Southern College's business administration department has added a minor in esports management, as well as an esports management concentration in its MBA program.
A strong esports student organization can also provide professional development opportunities and foster a sense of connection to the larger campus community. At the University of Oklahoma, the esports program is designed to simulate a professional esports organization, giving students marketable skills beyond the arena.
Publicizing these added benefits will demonstrate the value of esports as both a viable field of study and a professionally enriching extracurricular activity.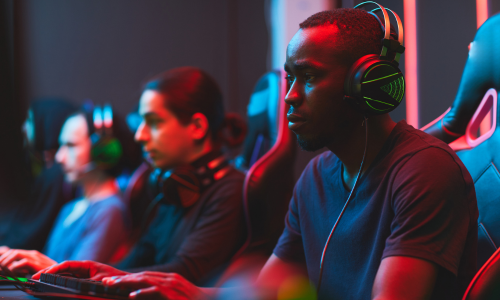 3. Ensure an Authentic Experience for Gamers on Campus
Understanding the culture of the institution and the goals surrounding the esports program can help shape the result. Authenticity is everything to a well-rounded program, says Karen Ruggles, associate professor of computer science and esports program director at DeSales University. In addition to a dedicated gaming arena with graphics processing units and gaming peripherals, students must also feel the institution's genuine interest and passion for gaming. If a university offers esports only to increase enrollment — and because everyone is doing it — then prospective students will catch on.

At the end of the day, every student is hungry for community, value for their tuition dollars and a transformative undergraduate experience. Ensuring authenticity and a well-rounded program requires cross-departmental collaboration, which might mean building relationships with new stakeholders.
Looking to Recruit with Esports?
Whether the goal is to find academic opportunities or to integrate a program into the overall university community, a partner like CDW•G through OMNIA Partners can help university stakeholders understand and shape their objectives for an esports program, select technologies to best meet these goals, and develop a cost-savings approach to esports purchasing — ultimately positioning esports as a valuable recruitment tool for colleges and universities.
---
This article in its original form was posted on the EdTech: Focus on Higher Education's UniversITy blog series.
Doug Konopelko currently serves as an Education Strategist for CDW•G. On his education journey, he has served in both urban and suburban school districts as a teacher, team leader, adjunct faculty member, edtech consultant, high school assistant principal, school district administrator, and state education organization leader.