As global trends in the Industrial Supplies and MRO space continue to shift, customers want more from their suppliers. OMNIA Partners members want more support, more ownership and more overall value.
That's why Fastenal, a leading supplier of OEM hardware and MRO items, launched an innovative approach to accommodate customers' changing needs.
History of the Onsite Program
Over the last 20 years, Fastenal deployed a unique solution for their customers – the Onsite program. This program positions full-time Fastenal experts and Fastenal-owned inventory within a customer's facility. The Onsite team takes over inventory acquisition, ownership and management, to drive continuous financial and productivity improvement.
Where Does Vending Fit?
Fastenal's vending solutions are often a key element of an Onsite program, providing 24/7 access to high-demand items, and reporting that eliminates wasteful usage. The Fastenal Onsite team continuously replenishes the machines, monitors usage patterns and adapts the product mix to meet changing production needs.
The results? Increased productivity and a significant reduction in consumption, typically 25-35%.
Onsite Program Benefits
Fastenal's Onsite program, available to members of OMNIA Partners, is a long-term and collaborative solution based on the needs of each individual business. Participating organizations will see many benefits, including:
Customized inventory modeling
Reduced consumption (vending)
Minimal inventory exposure
Reduced freight
Reduced admin. costs
Customized reporting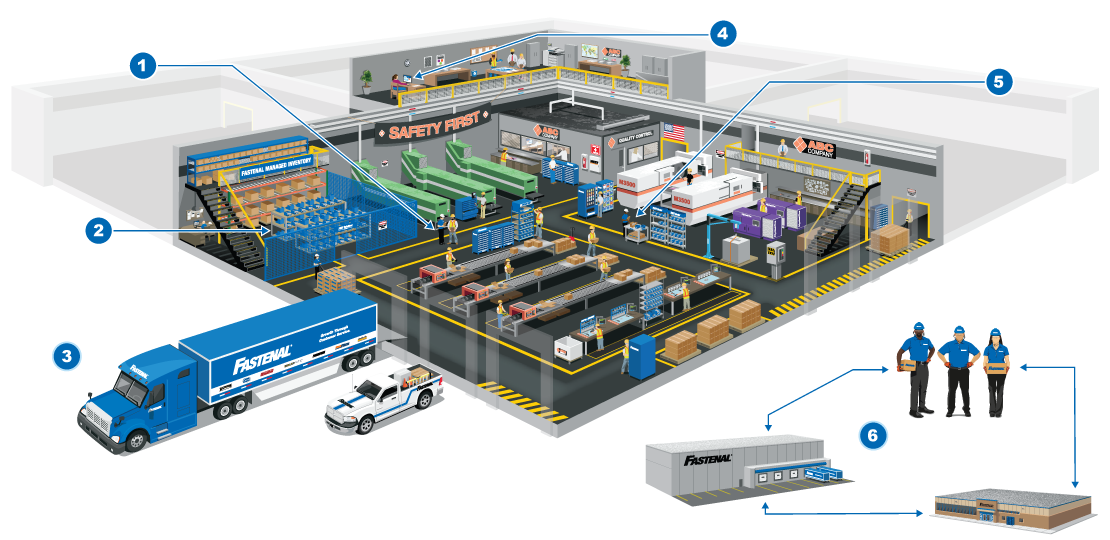 1. EXPERTS - With an onsite partnership, we provide a dedicated team to execute a supply program aligned with your strategic goals. Their job: integrate with your operation, engage with your stakeholders, and run a world-class supply chain for your business.

2. INVENTORY - Fastenal-owned inventory is stocked onsite to anticipate demand. This inventory remains on our books until it reaches your stocking locations, and the first time your personnel touch the product is when they're ready to use it.

3. LOGISTICS - Planned product needs are stocked in our regional distribution center and delivered via Fastenal truck on a regular service schedule.

4. DATA & VISIBILITY - Providing a view of your current inventory (by location) as well as usage/spend activity. Gain insight into what's being used, who's using it, and at what velocity, to shape smart business decisions.

5. POINT-OF-USE REPLENISHMENT - Our onsite team orchestrates a lean flow of inventory to production lines and various point-of-use devices. This can include automated solutions that bring traceability and control to high-moving or critical items.

6. MULTI-LEVEL SUPPORT - The program is supported by our district and regional sales leadership, our regional DC team, and various subject matter experts. A key resource is the local Fastenal branch, which serves as a back-up stocking/service center as well as a same-day source for 10,000+ high-demand 'spot buy' needs.
Key Impacts Shared by a Heavy Equipment Manufacturer
45 Onsite Vending Machines: Vending and point-of-use tool cabinets have allowed this customer to become more productive since employees don't have to walk to a tool crib to get parts and gear.
Faster Fulfillment: The customer and Fastenal collaborate to continually optimize the inventory carried in the onsite Fastenal location based on usage trends and upcoming project needs. This proactive approach enables them to fulfill most orders with onsite inventory, resulting in fewer emergency orders.
900 Bins Filled Each Day: Fastenal employees go through the customer's facilities and make sure parts are always available. This frees up employees to continue working on the assembly line rather than worrying about finding parts.
Vendor Consolidation: Fastenal was also able to consolidate the customer's vendor base for MRO and OEM products, plus offload the handling of product from receiving to stocking to point of use. All of these steps eliminated work the customer previously had to handle.
---
Get Started
Are you ready to boost productivity and profits? Fastenal's program with OMNIA Partners offers members the opportunity to implement a customized Fastenal Onsite program, with the advantages of OMNIA Partners category lifecycle management, including:
Annual market checks
Core list management
Rebate program
Reach out to your OMNIA Partners member development representative for more information.