The Current Pitfalls of School Safety
Efficient and effective school safety policies are critical to ensure that every student is kept safe and informed, should an emergency occur. It is reported that 51% of 911 calls take place on a cell phone inside a building1, yet 65% of emergency responders communicating inside a building experience regular communication failure2. This alarming fact further emphasizes the importance of having a strong network service inside school buildings, allowing emergency responders to arrive at the correct location as quickly as possible.
A common
misstep
in school
safety procedur
es
is the r
eliance on
certain
technolog
ies
for emergency communication that
are
not designed for such use
. For example, as previously noted, cell phones are one of the most used methods to contact emergency responders
, h
owever, a school
must
ensure that its building has full coverage for every single cellular carrier
in order for
it to solely rely on cell phones as
the main communication method
.
Another
frequent oversight
is
the dependency
on a single form of emergency communication to address a broad range of safety and security challenges
.
An example of this is
the sole reliance
on
a PA system to communicate all forms of emergencies to students and faculty
which could result in communication gaps if students are outside, in a separate building, hearing-impaired, etc.

The Wireless Safety Solutions
A safe school allows anyone with any cellular carrier the ability to dial and reach 911 from their cell phone inside and outside the building. It also has the network strength and capacity for several different platforms of first responder communications to take place. These communications include two-way radio, cellular voice and data capabilities, and FirstNet, a nationwide broadband data network created for first responders. While Wi-Fi systems might seem like the simple solution, these are ineffective for emergencies because they require information like a password and network name that creates time-wasting obstacles for emergency responders.
To bridge this communications gap and build safer schools, consider these solutions:
Distributed Antenna System (DAS): This solution implements a series of antennas around a school campus that are connected to one source. This amplifies the signal strength throughout the school allowing for better service during emergency communication.

Signal Booster:

This is a s

implified version

of the DAS solution. One signal booster can cover up to 25,000 ft

2

– approximately the size of an elementary school. Placing

a few boosters around

your

school is an easy way to fill in communication gaps.




Small Cell: This solution is designed for schools located in a coverage hole. Small cell uses the internet to bring a signal into the school and connect to a provider. This should be used in conjunction with DAS and/or signal boosters
The Challenge of the Digital Divide
Due to COVID-19, many school districts turned to and continue to utilize online learning - either out of necessity or to improve educational outcomes. This led to the displacement of 56.6 million K-12 students out of the classroom which in turn shed light on grave disparities surrounding remote learning. Major gaps in basic technology access have been uncovered, leaving millions of students affected by the Digital Divide.
The Digital Divide includes millions of families that lack high-speed internet at home, rural schools that face challenges of poor connectivity, limited resources, and a lack of political clout, and students that have the means to purchase this technology but cannot get access to it due to the inadequate number of devices on the market and continued overwhelming demand.
The truth is, remote learning isn't going anywhere. Most schools have implemented a phased or hybrid situation, meaning they will still continue learn-from-home in some form for the foreseeable future. Because of this, it is imperative that schools find alternative solutions to help students learn in this new and evolving remote environment in order to bridge this digital divide. Otherwise, schools and society as a whole will face these potential consequences:
Students that don't have access to the internet can fall behind

because they simply w

ill not

have the ability

to keep up with their counterparts that

have access

to become well-versed in technology. This in turn handicaps these students when later entering

college and

the workforce.

School districts may struggle to keep up with the large costs

associated with mobile hotspots and other technologies needed to provide internet access to students.

These hotspots cost $40/

mo

per student on average

,

which is a cost that was not budgeted

in the 2020 fiscal year

and may

not

be fully funded

in the 2021 budget.

.

Students may be less productive

with open access to the internet.

If schools use

hotspots as the

ir main

network source,

they

lose the ability

to control where students go on the internet during school hours

. This

can lead to distraction and

inappropriate

behavior.
The Graybar Solution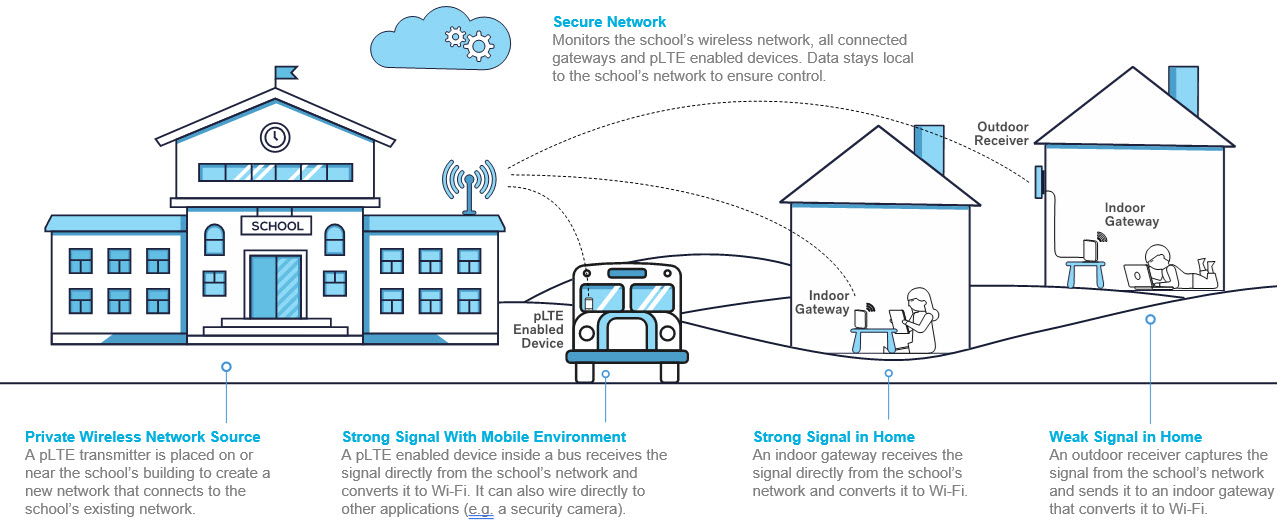 With such a wide variety of obstacles schools are currently facing, Graybar has the solutions schools need to overcome these challenges. With Graybar, schools can operate their own private wireless network through an antenna installed on the school building. This solution allows the network to serve student and faculty homes via indoor gateways, enabled devices, or hotspots. It provides a safe and secure online experience for students through restricted internet access, and it has greater coverage and reliability than outdoor Wi-Fi. It also allows connectivity for student and staff homes, school buses, and other fleet vehicles, and it can prioritize connectivity for students that have a test or video instruction that day.
This solution also offers a variety of options for payment that make it accessible to schools in any financial situation. When comparing to the cost of individual hotspots, hotspots might offer a cheaper short-term expense, however, investing in the Graybar private wireless network will be more cost-effective in the long run because the service can be paid off over the course of a few years.
In terms of implementation, Graybar is also here to help from start to finish with key suppliers like Commscope/Ruckus, JMA, and Nokia. Graybar stays with you every step of the way – from initial on-site recommendations to consistent management to ensure that your private network is running at its full capacity.
Graybar has a 23-year history with OMNIA Partners Public Sector. Public agencies can utilize the competitively solicited contract through OMNIA Partners to streamline the procurement process. OMNIA Partners provides eligible agencies access to a large breadth of products with consistent and competitive pricing. Contact us today to learn about these products or services from Graybar and more.
1docs.fcc.gov/public/attachments/FCC-14-13A1.pdf
2zinwave.com/das-solution-blog/trends-show-challenges-of-in-building-cellular-coverage-for-first-responders