Between limited resources, lack of time, staff, and funds, a lot of agencies are having to put off certain repairs and maintenance work. These types of situations are often referred to as deferred maintenance. Putting off repairs can result in serious downtime and delays for your facilities, which is why it is imperative to have access to solutions when you need them the most.
Partnering with a cooperative purchasing organization gives you immediate access to supplier solutions. The use of cooperative contracts also reduces the cost of goods and services by aggregating the purchasing power of numerous agencies across the nation.
Follow along as we outline deferred maintenance, how to prevent it from happening, and how a cooperative can connect you to immediate solutions.
What is Deferred Maintenance & How Do I Prevent it?
Most of the time, deferred maintenance occurs because of funding limitations. Not having the available funds to repair and replace broken items snowballs into a backlog, which causes a decrease in productivity. Another common reason is the lack of staff, skills, or equipment to conduct regular preventative maintenance.
Supplier partner Network Distribution has compiled a list of ways you can keep costs down while also keeping your equipment up and running. These preventative measures could be what keeps you from needing major repairs down the road.
Hear from a Network Distribution in the video below.
Preventative Measures
Create a daily routine

Incorporate maintenance procedures into your teams' daily tasks with checklists, whiteboards, or guides.

Save all of your manuals

Reviewing the manual is a great resource for troubleshooting your equipment. Upkeep like changing belts and replacing brushes can help you save time and money later on.

Inspect your equipment regularly

Catch issues before they become problematic by examining electric cords for kinks, splits, or fraying. Also, be on the lookout for damaged brushes, squeegees, and wheels.

Keep your equipment clean

Dust and dirt can easily cause equipment to overheat because it causes the machine to work harder. Keep your spaces clean to prevent damage to your equipment.

Keep your filters clean. A dirty filter can decrease overall efficiency.
I Already Have a Backlog, What Do I Do?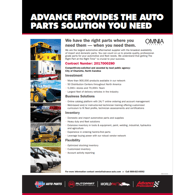 Sometimes, things happen and you need a repair or need to replace a product or piece of equipment. This is where your partnership with a cooperative comes into play. With a vast contract portfolio, cooperatives give you instant access to numerous solutions. You can work with industry experts to find the solution that best fits your needs.
Supplier partner Advance Auto Parts understands the need for parts and equipment can be sudden and crucial to success. Click the image to enlarge the flyer to explore their available options.

Cooperative Partnership
Keeping your facilities up and running is key to success. When you have a need it is vital that you can repair it quickly. Cooperative purchasing organizations offer access to industry-leading supplier contracts when you need them most. All contracts have been competitively solicited and publicly awarded by a lead agency, therefore saving you time and money while providing you with the best possible value.