Did you know all group purchasing organizations (GPOs) are similar, but not exactly the same? At the core, GPOs are all united in wanting to help your organization succeed by saving time, money and resources, but some offer more extensive benefits.

Group purchasing organizations create and manage contracts for indirect services and goods, as well as direct materials and commodities that are mutually beneficial to both the GPO suppliers and members. GPOs first create a membership base that's comprised of companies looking to channel their spend using the GPO's agreements. The combined spend of these member companies creates leverage. It's this leverage that continues to attract GPO supplier partners and motivates them to offer their best pricing and service levels to GPO members.
Keep reading to learn how to spot the key differences between GPOs and how to find the best fit for your organization.
The Basics of a Traditional GPO
A traditional GPO is going to provide your organization value through three main elements: time, money and resources.
GPOs save you money

by providing access to the cost savings they negotiated with their supplier partners.

GPOs save you time

by giving you

immediate access

to a finished contract; they conduct the sourcing process for all their agreements, so you don't have to.

GPOs save you resources

by freeing your procurement team from managing nonstrategic, indirect and direct spend, giving them time to focus on areas that are strategic to your business.
However, when you consider the benefits of joining a group purchasing organization, these three should be just the beginning. A traditional GPO is similar to a diligent employee with a "check the box" mentality. They do their job in a timely manner and in a "meets expectations" sort of way. But just checking the box means missed opportunities and missed savings.
Endless Opportunity with a Modern GPO
When you're comparing GPOs, there are easy quantitative measurements to use:
Number of agreements offered

Number of members

Total spend volume
But as with most things, the qualitative elements complete the story. You can easily conduct a quantitative study to cover what a traditional GPO offers. But if you rely purely on numbers, you'll miss the real benefits of a modern group purchasing organization, like OMNIA Partners.
A modern GPO is like a promising employee working towards a promotion. While successfully managing their main responsibilities, they also undertake extra, forward-thinking projects. Their focus is on creating sustainable value, not just making a quick savings buck. Modern GPOs strive for that "exceeds expectations" review.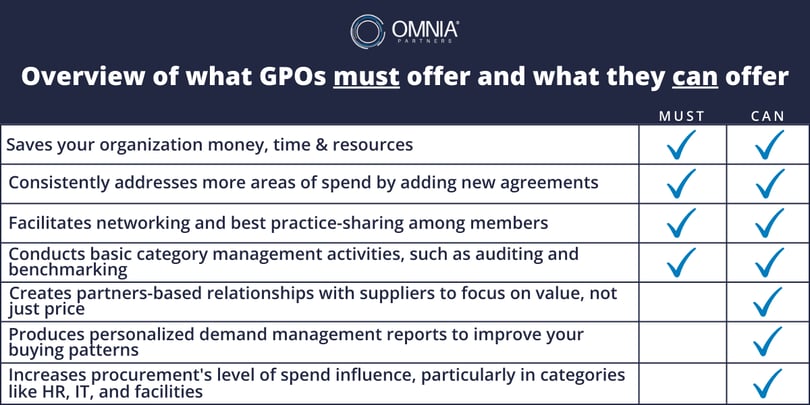 Modern GPOs offer many resources to help your organization streamline your procurement process, such as partnerships with industry-leading suppliers and connections to experts in countless categories. Working with a modern GPO will help you excel to the next level with benefits beyond savings, such as continually monitoring the market and making you aware of any potential risks and creating personalized demand management reports to improve your buying patterns.
Leverage the Partnership
If your procurement team is responsible for managing all of your indirect and direct spend on their own, you're missing out on the benefits of being a member of a group purchasing organization. Through group purchasing, you can make your purchasing process more seamless while achieving speed to savings, which gives you more time to focus on your overall strategy and other key projects. Organizations that leverage the group purchasing model are able to bypass hundreds of hours in sourcing time. Your procurement team can accomplish twice as much in the same amount of time with the same number of resources when you partner with a GPO.
Click the button below to learn more.