Keeping wastewater treatment plants up and running, and delivering clean water to communities, while keeping pollutants out of the environment is a 24-hour-a-day, 365-days-a-year job. Aging infrastructure, climate challenges and labor shortages make it especially challenging for municipal water treatment plants to ensure the integrity and maintain the reliability of their facilities. Lawson Products, available through OMNIA Partners, shares 7 preventative maintenance tips that municipalities can benefit from to make sure treatment plants are operating smoothly and efficiently.
Did you know? Lawson Products provides a broad line of maintenance and repair products and site-level inventory management services on a cooperative contract through OMNIA Partners. Learn more here.
Aging Infrastructure
Most wastewater treatment plants are designed with an average lifespan of 40 to 50 years. Therefore, the systems that were constructed in the 1970s are at the end of their service lives. According to the US Environmental Protection Agency (EPA), on average, 14 to 18 percent of total daily treated potable water in the United States is lost through leaks. The US EPA projects water-pipe replacement rates will peak in 2035 at 16,000 to 20,000 miles of pipes replaced per year—four times the current annual replacement rate of 4,000 to 5,000 miles.
Labor Shortages
Like many other industries, water utilities are also challenged with recruitment, training and retention of employees. These challenges are likely to become even more troublesome with approximately a third of the water workforce becoming eligible for retirement in the next decade (US EPA).
Climate Change
Changing climate impacts wastewater systems through changes in temperature, precipitation patterns, sea level rise and storm-related changes. It impacts both water resources and wastewater treatment plants. Storms can lead to greater pollutant runoff and adversely affect the quality of source water. They can also cause flooding and storm surges that can overwhelm or damage water utility infrastructure.
These challenges, combined with the fact that contaminants being treated deteriorate reinforced concrete and turbulent flows and suspended solids erode steel structures, call for carefully planned maintenance and protection of treatment plant infrastructure, machinery and equipment. Why? Because completely overhauling a wastewater treatment plant is expensive, and even partial replacement adds up quickly.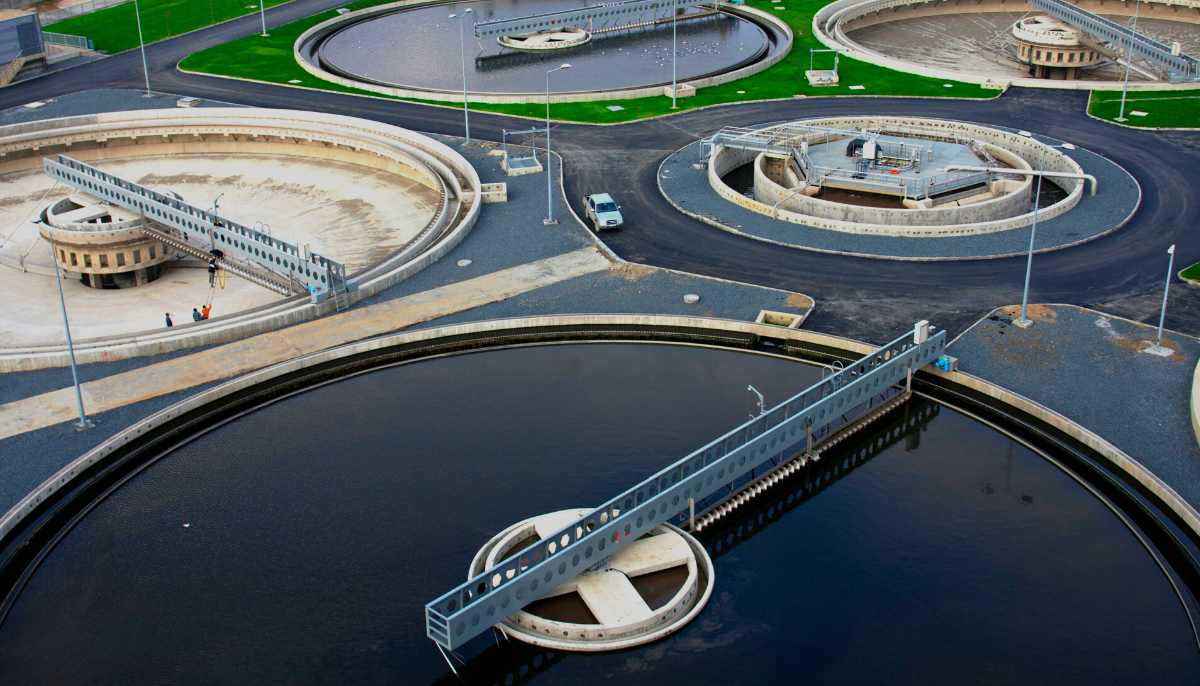 Preventative Maintenance Tips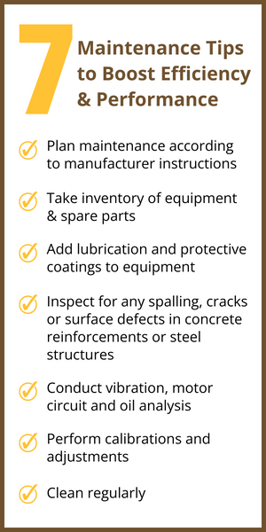 As wastewater treatment plants are pressured to extend the lifecycles of assets to get the most value out of them prior to replacement—all while maximizing uptime and minimizing downtime using the least possible amount of time and money—consider fast and effective concrete repair, quick-curing epoxies, industrial-grade fasteners and high-performance lubricants to keep every aspect of a wastewater treatment facility in order.
To repair damage to concrete, use a quick setting, self-bonding concrete repair formula that does not require priming or formwork on vertical surface repairs such as stairs and walls.

Use quick-curing epoxies, ideal for emergency repairs and safe for potable water systems, that can be drilled, filed sanded, tapped and painted, and are chemical and corrosion resistant.

For base metal or rusty steel surfaces, use a 100% solids epoxy coating that is applied in a single coat and dries to a hard glossy finish. These one-step solution coatings are perfect for protecting structural metal and other metallic surfaces from deterioration without the need for extensive preparation or multiple coat applications.

Eliminate corrosion by creating a protective coating with high-performance lubricants and prevent metal-to-metal seizing, galling and sticking in stainless steel applications.



Click here to learn more about Lawson's wastewater treatment solutions and essential products, available through OMNIA Partners.
Leverage the Power of Partnership
Lawson Products and OMNIA Partners are proud to offer cost-effective and efficient solutions to state and local government entities. With less staff and time available at wastewater treatment plants, Lawson's inventory management solution:
Eliminates time spent taking inventory and re-ordering small parts

Minimizes time spent looking for products

Reduces unplanned trips to off-site stores looking for parts

Includes product application advice and on-site training

Lessens project downtime by having the right parts stocked and ready for use
To learn more about Lawson's inventory management solutions, available through OMNIA Partners, click the button below.
---
About Lawson Products & OMNIA Partners
Lawson Products is a leading distributor of fleet and facility maintenance products in North America. We serve state and local governments, school districts, colleges, and universities on our competitively solicited and publicly awarded cooperative contract available through OMNIA Partners, Public Sector. Participating agencies have access to a variety of maintenance and repair products and solutions offered by Lawson Products. Not a participant of OMNIA Partners? Become one today!