Buying office furniture can be a complicated process.
Our partners at The HON Company thought about it at length, and the question they always came back to is: "How can we create the best furniture-buying experience for our customers?"
---
Whether you know what you're looking for or are starting the furniture search for the first time, there are several advantages to working with an experienced office furniture partner – which we'll dig into in this blog with the assistance of two HON experts: Ric Andersen (Vice President, Sales) and Aaron Snyder (Senior Director, Sales Operations).
In addition to choosing a knowledgeable furniture partner, you can improve your overall experience by purchasing through a cooperative purchasing organization, such as OMNIA Partners, and save your organization time and money throughout the process. Follow these four tips to ensure the best possible experience when creating your newest space.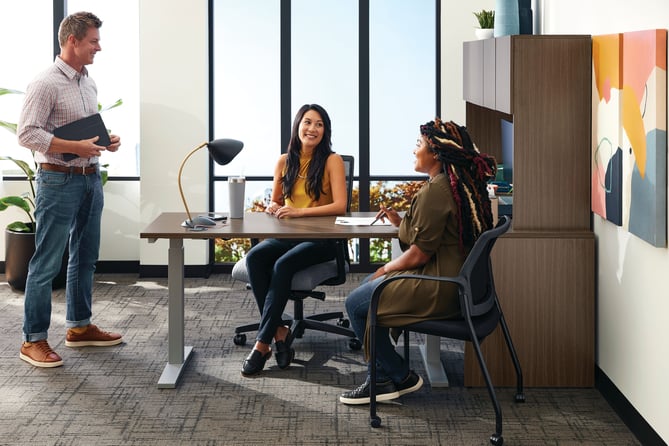 Read the original blog post from HON
Tip #1: Look For A Strong Dealer Network
Some companies talk about pricing, while others focus heavily on delivery times. But they're missing something quite important.
When you're in the market for office furniture, it's key to know your provider's depth of product and the brands they support.
"Great dealers support great brands," Andersen said. "Considerations like design and project management are crucial to building a space which works, while offering brands which have strong warranties, person-to-person customer support and a commitment to service will make your post-sale experience fulfilling and ensure that your furniture lasts far into the future.
While there are highly-capable salespeople and installation professionals at other furniture providers, many competitors fall short of what the customer truly expects. Customers want (and expect) their furniture partner to take care of everything.
At HON, "we're focused on bringing customer spaces to life. It's a comprehensive approach," said Snyder. "We're the experts in the furniture-buying process, and every step of our process makes that clear to the customer."
Tip #2: Find A Partner – Not Just A Provider – You Can Trust
Buying furniture can be overwhelming.
That's why HON is focused on making the process simpler.
The right partner should be an extension of your team, from design and consultation, to budget planning, to finding products that fit your specific needs. Every office space and customer wish list is unique, and for those reasons, details matter.
"If you look at commercial furniture and integrating what we offer in a way that positively impacts your business and drives real meaningful business outcomes, it's not that simple and intuitive when you do it once or twice in a career. It's an ongoing challenge," Andersen said. "There are so many options (on the market). We onboard that best-in-class expertise and it's part of our business model.
"We don't offer a set of parts and pieces that you have to put together yourself. We build the right solutions tailored for your business needs, and that's why we have the people in-house that do this for you."
At the end of the day, furniture has to provide a meaningful outcome for your business. The goal is to make your workplace more productive, to make your company more inclusive, and to help you attract and retain top talent. Best of all, HON can make your space work for you – work should be a place where members can do their best work, says Andersen.
Tip #3: Find A Partner Who Understands Your Business Needs
Buying furniture is a key moment in the life of a business.
It may not sound like that at first, but furniture is a long-term investment geared toward improving the work experience of your employees. When they're in the office, they should feel comfortable, productive, and have the flexibility to work in different spaces or settings conducive to their preferred work style.
Collaboration is key. The ability to offer localized expertise is a differentiator for HON and its network, Snyder said.
"We offer unparalleled capabilities combined with a powerful, connected dealer network to meet the local needs of the local customer," said Andersen.
"Everyone wants to know: did I get a solution that helps me attract talent and helps me drive meaningful business outcomes and give people the opportunity to collaborate and do their best work? Did I get the experience that I needed? Did I get furniture which was built to last so I'm not paying twice? Was the value I got commensurate with my expectations? With HON, all those things are historically proven."
Tip #4: Utilize a Trusted Cooperative Purchasing Organization
While HON will help you reimagine your workspaces, the purchasing vehicle which you pursue can make a significant impact in your overall process. OMNIA Partners is the most experienced cooperative purchasing organization for state and local government, K-12 education, colleges and universities.
By utilizing cooperative contracts, you can reduce the cost of goods and services by aggregating the purchasing power of public agencies nationwide and save time during your purchasing processes. Cooperative contracts through OMNIA Partners adhere to the highest standards of public procurement, so you can feel secure knowing that you are in full compliance with industry regulations.
To learn more about the variety of HON furniture solutions available through OMNIA Partners, please click here.
---
HON & OMNIA Partners
Available through OMNIA Partners, The HON Company designs and manufactures government, education and workplace furniture including chairs, tables, desks, workstations and storage. They are a single source for all of your workplace furniture needs, from private offices to training spaces to collaborative areas to archival storage. Headquartered in Iowa with a distribution network of trusted dealers throughout the US, HON is always around to provide the best possible experience for you and your customers. By utilizing the competitively solicitated and publicly awarded cooperative contract with HON and OMNIA Partners, your organization can save time, money, and resources to ensure your next space is completed on time and within your budget.
Learn more by clicking the button below or filling out the form to get connected today!