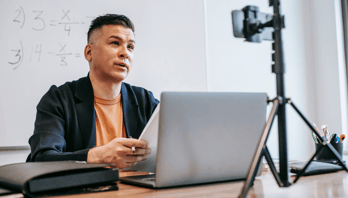 Colleges and universities have certainly seen a lot of changes since March of 2020. As doors closed and classrooms emptied, many found themselves in the unfamiliar situation of having to turn to a digital-only education model. As part of that, testing also had to move online, creating confusion among test-takers.
Now that doors are opening again and students are returning, many places are choosing to continue online testing, possibly in some combination with in-person exam delivery. However, one thing is clear: online proctoring is here to stay.
But where do you get started? And how do you know what kind of proctoring is right for you? Continue reading to discover the proctoring solution that fits the needs of your organization.
Choosing the Right Modality
Deciding which type of proctoring is right for your organization's specific needs is key for a successful program. With both live and automated options, there are several factors to consider. Here are four questions to ask yourself when choosing which proctoring solution is best for your organization.
What kind of security do the exams require?
Different types of exams require different levels of security. For example, a final exam or certification test are among the most important assessments a student or candidate will take. These types of exams may warrant a live proctored solution in order to better protect the exam event. On the other hand, a low-stakes exam, such as a quiz, may only require an automated solution. This will still curb violations and is more cost-effective than a live proctoring solution.
What are the financial constraints that need to be considered?
Before you can select the right modality, it is important to know what kind of budget is available. When possible, try to determine in advance the amount you would like to spend to reach your proctoring objectives. Compare that to the estimated volume of exams and the type of security they require in order to help you determine which proctoring approach is right for you.
Would a mix of live and automated proctoring be more appropriate?
In many cases, a combination of the two types of proctoring is the preferred solution. This occurs especially in situations where different types of exams are administered. For example, university courses may contain both quizzes and final exams throughout the semester. By using live and automated proctoring, the right type of solution can be applied in each instance. Choosing a provider that can be flexible to accommodate all of your organization's needs is key.
What will the experience be like for the test-taker?
Providing a positive and successful test-taker experience is critical, especially when you consider that testing online may be different from what test-takers were used to previously. While online proctoring isn't new, it can be for individual test-takers. Both automated and live proctoring are secure, however, there is still a variation in the level of interaction a test-taker must provide. This is important when considering how to balance the level of security with the experience of the end-user.
It's time to dive in. By taking all of this into consideration, you can feel confident that your transition to online proctoring will be successful. Get started today!
About Examity & OMNIA Partners
Examity and OMNIA Partners together deliver public agencies cost-efficient solutions that empower digital learning. The Examity cooperative contract through OMNIA Partners brings a variety of live and automated proctoring solutions to educational institutions, government agencies, and nonprofit organizations. We invite you to learn more today.