Introducing modern payment technology is the key to adapting to evolving customer needs. By making improvements in this arena, cities can increase access to public services and build additional trust with your constituents. But the work does not stop at implementing new technology. It is imperative that governments leverage best practices to actualize the full benefits of new tech.
Here are 4 Best Practices that governments can utilize to make the most of payment technology.
Support Common Payment Methods
Expanding access means offering multiple ways for customers to pay essential bills. Gone are the days where all customers pay with one payment type. It benefits everyone to offer more than one payment method to accommodate your customers.
Customers readily expect payment options that allow for payment by cash, card, or check. And online payment channels like web and mobile should include the added option of ACH payments made directly from a customer's bank account.
Provide Access at All Times
Customers cannot always make it to payment centers during set business hours and can really benefit from expanded bill payment access. Essential services are labeled as such because customers cannot go without these critical services.
Expanded access to make these important payments during more convenient times is vital to avoiding dangerous shutoffs. Governments everywhere are introducing new technology with their customers' convenience in mind, many offering payment channels with up to 24/7 payment access.
"40% of our kiosk payments are made outside of our business hours, and that means that those are the customers that are using our through-the-wall kiosks where they have access to them 24/7."

– Supervisor of Customer Services, City Utilities of Springfield
Leverage Seamless Integrations to Underlying Systems
Cities need a way to accept payments for multiple departments. It's common for different departments to operate on distinct source systems. Rather than uprooting old systems, engineers can build Application Programming Interfaces (APIs) that allow the interface to pull from different databases and present data and functionality in aggregate. APIs can also ensure there is no downtime if you decide to replace or upgrade those older systems.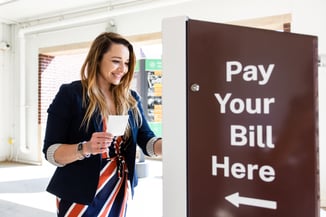 If the goal is to introduce new technology to centralize payments, a product that seamlessly integrates to all systems and departments is a must-have. Procuring a kiosk and/or a Point of Sale cashiering system with the ability to onboard multiple agencies and types of payments onto one platform is invaluable. And the convenience to customers when they can pay a utility bill and property tax at the same place, for example, will reap the benefits both in customer satisfaction and steadier revenue collection.
"The CityBase solution integrates with Salesforce, it integrates with Accela, it integrates with a lot of different solutions out there that are in the government space so that each one can really make sure that their payments are for the specific thing necessary for that organization."

– Chief Assistant Treasurer, City and County of San Francisco
Utilize Robust Reporting on the Back-end
For staff in the finance department, the ability to consolidate reporting drives down costs while also increasing constituent satisfaction. There should be a single source of payment information that includes all payment methods, all payment channels, and all exceptions that happen along the way, such as chargebacks or returned checks. A centralized, secure reporting and reconciliation tool will be an invaluable resource at any Finance department's disposal to perform necessary month-end closeouts and resolve any discrepancies with transactions.
"The revenue dashboard was a one-stop shop for us, so it made sense to bring in this web-friendly solution that we could offer to customers. So for us, it made the most sense, and then it also helps speed up our bank reconciliation process, having those in one place. So, as the more we get bundled into the revenue, our management dashboards have a quicker snapshot of where we are today."

– City Controller and Utility CFO for the City of Lawrence
Perform an Honest Assessment of your Tech
Procuring new technology is a major investment toward improving the lives of customers and staff. An honest assessment of how your existing tech operates can help inform ways to adjust practices that will make the most of it. And with that information, you can identify areas where new tech may fill gaps in functionality to improve efficiencies for customers and staff.
→Read the original blog from CityBase here.

About CityBase & OMNIA Partners
CityBase makes government and utilities easier for everyone with technology that helps people find, apply, and pay for public services while helping staff manage those interactions. Through the purchasing power of OMNIA Partners, members have access to hassle-free payments and digital services via kiosk, web, mobile, and point of sale. Learn more about how integrated technology can enhance your user experience!