Winter is coming, and with the cold weather comes increased contact with germs. According to the CDC, maintaining a clean environment and providing easy access to hygiene products and supplies is one easy way to help prevent the spread of germs.1 Amid the flurry of year end activity, long to-do lists, and stretched resources, hand hygiene and surface disinfecting may not be top of mind for nonprofit organizations.
So, where to begin? Here is a list of four key steps procurement can take to help minimize the spread of germs in your facility this upcoming winter germ season.
Step 1 – Review your cleaning procedures and inventory of hygiene supplies.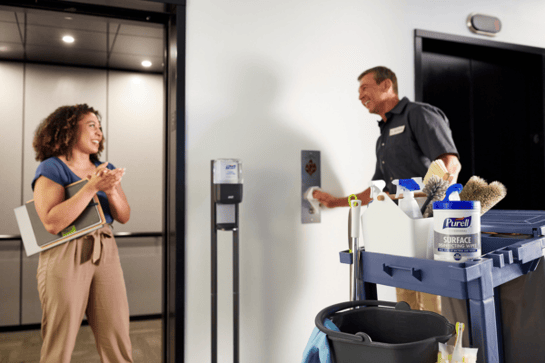 The CDC provides updated guidance on preventing flu outbreaks in businesses.1 Ensure all maintenance staff (or any employees participating in surface hygiene) are aware and trained on day-to-day cleaning and disinfecting procedures and what to do in the event of a flu outbreak. Products should be stocked, appropriate for use, and in-date (not expired). Surface disinfectants should be EPA-registered, and the product label should state it's effective against the influenza A (flu) virus, respiratory syncytial virus, and rhinovirus. All disinfectants are different, so the label instructions should be followed to make sure it's being used correctly to kill the influenza virus.
Step 2 – Focus frequent disinfection on high-touch surfaces.
Surfaces that are touched by more hands are more likely to be contaminated with the influenza virus. These include handrails, doorknobs or handles, light switches, touch screens, keyboards, elevator buttons, shopping carts, countertops or tables, and chairs. Don't miss shared high-touch surfaces in places where food or drink is consumed, such as coffee or beverage stations, shared condiment displays, water coolers/fountains, trays, or refrigerators and microwaves in breakrooms and cafeterias. Encourage frequent disinfection of employees' personal items such as mobile phones and computer keyboards/mice.
Step 3 – Ensure proper product placement.
Hygiene products should be placed conveniently to promote their use by more than just maintenance staff. Consider placing disinfectant sprays or wipes in areas where employees can help to keep shared (and even their own) surfaces clean between professional cleanings. Consider providing additional supplies to promote good personal hygiene such as disposable tissues, soap, and hand sanitizer.
Step 4 – Educate staff and set hygiene expectations.
A recent study showed that providing educational reminders like posters and how-to guides to staff and users of a facility led to a 95% reduction of germs on surfaces.2 Emphasize and reinforce the importance of hygiene to all employees and what actions they can take to help prevent the spread of germs in the workplace.
Illness prevention starts in the community. Preventing the spread of flu and other respiratory viruses in businesses also helps to prevent the spread of them at home and in your community – and vice versa. Practicing good hygiene in all the places you go to serve your community will also help to keep you and those your organization supports healthy this flu season.
Cooperative Purchasing Strategy for Cold and Flu Season
Prioritizing preventative care is key to safeguarding your staff's well-being. In the realm of procurement, we are uniquely positioned to proactively seek out and implement precautionary measures that promote overall health. Leveraging cooperative purchasing not only grants you seamless and immediate access to reduced pricing from industry-leading suppliers, but also opens doors to a host of value-added benefits, making it a win-win strategy for a safer and healthier workspace so you can focus on fulfilling your organization's mission and goals.
Learn more about facility hygiene solutions from GOJO® available through your preferred distributor's contract agreement here. To get in contact with a dedicated expert or get started, click the button below.
---
OMNIA Partners & GOJO®
As the makers of PURELL® Hand Sanitizer, GOJO® offers a complete product portfolio including heavy-duty hand cleaners, soaps and wipes, in addition to breakthrough dispensing and electronic hand hygiene compliance monitoring systems. In partnership with OMNIA Partners, GOJO® helps nonprofits eliminate time spent purchasing hygiene products and solutions so they can focus on achieving their organization's vision and goals. GOJO® products are available through OMNIA Partners on cooperative contracts with their favorite distributor. There are no fees to participate and no minimum order requirements, so nonprofits of all sizes can enjoy volume discount pricing. Join today to start saving!
1 The Centers for Disease Control and Prevention. "Flu Resources for Business." https://www.cdc.gov/flu/business/index.htm Accessed July 5, 2022.
2 National Association of Collegiate Directors of Athletics. "Crucial Hygiene Practices in Athletic Facilities: For the Pandemic and Beyond." Athletics Administration. March 2021 issue.