With continual influxes in demand for alternative student transportation, EverDriven's CEO, Mitch Bowling, shares three solutions to improve student transportation and effectively address the Every Student Succeeds Act (ESSA) to help alleviate concerns for parents and school districts.
As the CEO of EverDriven, a tech-enabled alternative transportation provider that works with school districts to supplement the bus system, Bowling has seen firsthand how secure, consistent, and agile transportation can help both students and districts successfully navigate these challenges. By utilizing alternative vehicles, districts can support student success by providing a way to achieve better attendance and save time and money figuring out the logistical and financial factors through using a Cooperative Purchasing Organization like OMNIA Partners.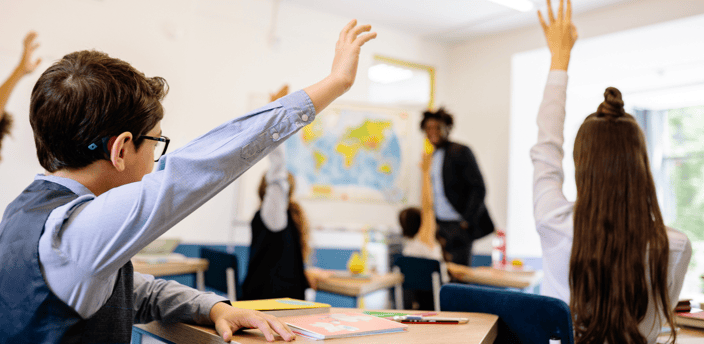 Ready to learn more? Click here to get in touch with a representative and help your school district optimize its transportation plan for this school year.
---
Back to school is a great time to observe and understand challenges
As students head back to school after the holidays, it's a great time to observe and understand the challenges that are associated with student transportation. Mitch Bowling shares three observations that EverDriven has seen as they've worked with school districts around the country to navigate the issues surrounding student transportation.
1. Expect the unexpected with students
Between August 1, 2022 and September 16, 2022, EverDriven drivers completed more than 21,000 unplanned student trips for the districts that they serve. Why? Because one thing that can always be expected is the unexpected.
Students transfer to different schools at the last minute for a variety of reasons such as housing insecurity or address changes, but still need transportation to and from school. Research shows that up to 10% of the state's student population will switch schools, with poor and rural children being disproportionately affected.
These events and changes create challenges for districts and they are forced to reassess how to meet these unexpected demands. Many districts choose to partner with a contractor to supplement bus service.
A commitment to safety combined with proprietary technology allows school districts and parents to have comfort in knowing exactly where their students are while they are transported and allows for ease of scheduling and adjusting trips based on their transportation needs at any point in time.
2. Prioritize consistency and stability to navigate critical driver shortages
All students, especially students with disabilities, thrive on consistency. However, driver shortages pose a challenge to this consistency. In an effort to combat this, many school districts have added an alternative student transportation solution to minimize disruptions and meet the transportation needs of their students.
Doing this adds a sense of stability to the students' daily routines - sending the same driver to the same students for every trip possible, and picking the same students up in the same vehicle every day. Allowing this sense of "same" can help reduce stress and set students up for a happier, more productive school day.
Prioritizing stability for students also benefits parents, who deserve to know that their child is in the care of a familiar person and vehicle each day. A vetted and trained monitor - provided by the district or the contractor - can keep the student and driver safe and provide support for a calm ride. Prioritizing consistency and stability in transportation can go a long way in providing trust between parents and school districts.
3. Hold your partners to the same high standards
It goes without saying that any transportation professional would want to partner with companies that have the same high standards when it comes to student safety, data security, and communication. Setting the bar for vetting qualified subcontracted drivers means requiring them to become SafeRide Certified before driving a single student. Transportation contractors can and should work with the department of education of each state to ensure drivers are meeting specific safety standards.
Technology allows for real-time monitoring and route planning and can also protect the privacy of student information. With student welfare and well-being the No. 1 priority, student safety is essential for whatever transportation solution a school district elects to use.
Our education system works hard to ensure that each generation of students receives every possible opportunity for success in life. Providing families and districts with safe, reliable, and efficient transportation solutions is key to putting, and keeping, students in the classroom.
Solving school transportation challenges may require dedication and outside-the-box thinking, but with high-quality alternative student transportation option, districts are one step closer to getting the job done.
One step closer to solving school transportation challenges with EverDriven and OMNIA Partners
Providing families with safe, reliable, transportation solutions is key to placing, and keeping, students in the classroom where they are set up for success in life. EverDriven provides alternative and supplemental student transportation solutions for school districts nationwide. With over 100% growth in the number of districts served and over 60% growth in students served in the past two years, EverDriven has seen unprecedented expansion in both district and student demand. There is anticipation that these trends will continue and even accelerate, therefore, EverDriven has invested heavily in hiring and in its Technology Service Enablement Suite. By utilizing these benefits and new investments available through the OMNIA Partners cooperative contract, EverDriven's solutions ensure that students and families are provided with reliable and consistent transportation alternatives to get, and keep, more students in the classroom.
EverDriven's continuous commitment to enhancing its services by improving its proprietary technology solidifies its position as a leader in the alternative student transportation industry. Its record of innovation ranges from required vehicle configurations to driver vetting, to a parent/guardian VIP app that tracks students during transport. It is proven time and time again through success stories and changed lives that "they don't just drive, they are driven."
---
ABOUT EVERDRIVEN AND OMNIA PARTNERS
Agencies who are registered through
OMNIA Partners
can use
EverDriven
's cooperative contract to access a breadth of services that provide school districts with Alternative Student Transportation services. The contract allows districts to save the costs associated with the competitive bid process while reaping the benefits of nationally leveraged pricing, all at no cost to the district. Learn more about the competitively solicited and publicly awarded
contract
available through
OMNIA Partners, Public Sector.