Lots of on-point and insightful discussions are happening these days about what's next in workplace strategy and design.
Our partners at Allsteel have a mission to call out what they believe to be the most important things to get right. Taken together, these topics help them focus on the combination of what matters most.
Partnering with professionals like Allsteel can make the design process seamless! Additionally, partnering with an ally in purchasing, such as OMNIA Partners, can help your company save time and money while bringing your vision to life. Learn three strategies to keep in mind when building out your workspace.
1. Double down on people-first cultural evolution
Don't gloss over or under-estimate mental health, trauma, or grief; do dial-up engagement and communication to strengthen trust and resilience.
Relationally-enriched environments—with positive human connections—and self-regulating techniques (i.e., calming movements) are at the core of healing trauma, loss, and loneliness. High levels of consistent engagement and communication with workers help rekindle interpersonal connections and trust in each other and the organization. While not a replacement for therapy or counseling, involving employees in identifying beneficial elements and developing approaches to mitigate burnout will demonstrate its prioritization, de-stigmatize needing help, and improve relevance, value, and buy-in.
Welcome new worker expectations – many are backed by science and deliver significant ROI to their organizations. Research studies link worker expectations—like a supportive empathic manager, greater autonomy, and the prioritization of mental and physical health—to better team productivity, higher percentages of high performers, and stronger financial performance in those organizations that meet those expectations.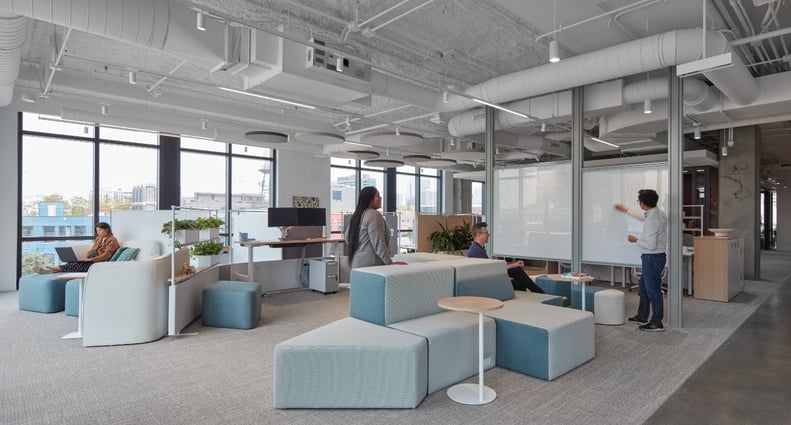 2. Promote the purpose of the office to nurture connections and interactions.
Workplace design can help organizations to strengthen social cohesion.
Social cohesion has four dimensions: Fairness (read: equity), Authenticity, Interdependence, and Belonging. Both the design process and the resulting design recommendations can promote these qualities. For example, activity-based planning is inherently more equitable than status or one-size-fits-all as a way of allocating space. It also encourages/enables users to select the most supportive/conducive space to perform a given task and is one step toward supporting a neurodiverse workforce.
While distributed/hybrid work inherently gives workers more places to work—office, home, coworking, coffee shop, etc.—and the autonomy to come and go as they need to, a tech and resource-rich space is the optimal place to do complex collaborative activities: problem-solving, idea generation, process improvements, etc. It's important to create as equitable an experience as possible to ensure all participants – regardless of their location - feel equitably and fully engaged and included.
3. Intentionally Design with Adaptability in Mind
Workers' behaviors and utilization tracking data will tell us how they're using the office over time.
And how the office is, in turn, supporting their needs and preferences. Data analytics will tell us what spaces over-used and under-used, and which spaces are not supporting workers as expected. This provides organizations the opportunity to make the physical changes that will "adjust the mix" - optimizing user experiences and space utilization in the short term – during the 'shakedown cruise' - and into the future.
Even with all the best intentions, solid research, and inclusive discussions about how things might work once folks come back, workers will very likely spend several months experimenting with distributed/hybrid work patterns, free-address, technology, and new team norms. Consider using modular planning and a thoughtful "spatial kit of parts" that minimizes the effort and disruption of reconfigurations as organizations adjust the mix of spaces they need over time.


About OMNIA Partners & Allsteel
Allsteel strives to create spaces that can adapt and change with the growth of your team, no matter what your need is. Through the cooperative contract with OMNIA Partners, Allsteel offers an adaptable portfolio of seating, systems, casegoods, tables, movable walls and accessories! Allsteel partners with public sector agencies to address their needs for today and tomorrow. Save time and money by utilizing the cooperative contract with Allsteel and OMNIA Partners today!